Route 66 is probably the most famous road in the world, covering 2451 miles of America, starting from Illinois and ending in California on the Pacific coast. For many people route 66 offers a once in a lift time experience allowing you to visit some the best places in America like Chicago, the Grand Canyon, Las Vegas and LA.
Here we've listed 11 places you have to visit if you do Route 66 and why:
Chicago
1) Most people will start in Chicago aka the windy city, where you can see the splendid and wonderful views of the city from views at the top of the Willis Tower; a popular hotspot for tourists. If you like shopping take a trip down 'Magnificent Mile' which offers a huge range of boutiques, department stores, ethnic stores and more. Chicago is also famous for its museums and art galleries including the Museum of Modern Art and The Art Institute which showcases over 300,000 different pieces and works.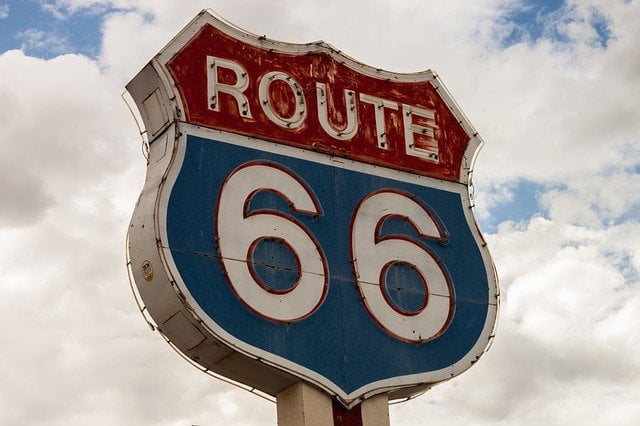 Springfield
2) Springfield in Illinios is home to former and deceased president Abraham Lincoln who is remembered throughout the city with museums and libraries built in his memory. Springfield offers a real route 66 vibe with drive in cinemas and the Route 66 drive-in Theatre you must do.
St Louis
3) Visit the vibrant city of St Louis in Missouri which hosts attractions such as the Gateway Arch, a 630 foot stainless steel monument built to symbolise the western expansion of America. Another very popular must see is their 11 time world champion baseball team which will truly get you in the American spirit.
Oklahoma City
4) If you like cowboys and westerns you have to visit Oklahoma City which offers a wealth of western history at the National Cowboy & Western Heritage Museum. Once you have explored the cowboys get yourself to the Oklahoma Route 66 Museum which will take you back in time to tell the story of how and why this road is so famous, showcasing a range of photos, artefacts and music.
Amarillo
5) I'm sure you have heard the song "Is this the way to Amarillo?" – well now you have the chance to visit this fantastic location in Texas which offers a variety of antique shops and cafes, as well as the option to go and graffiti a Cadillac at the unique Cadillac Ranch. Seems a shame to be spray painting such a beautiful car but also super fun too!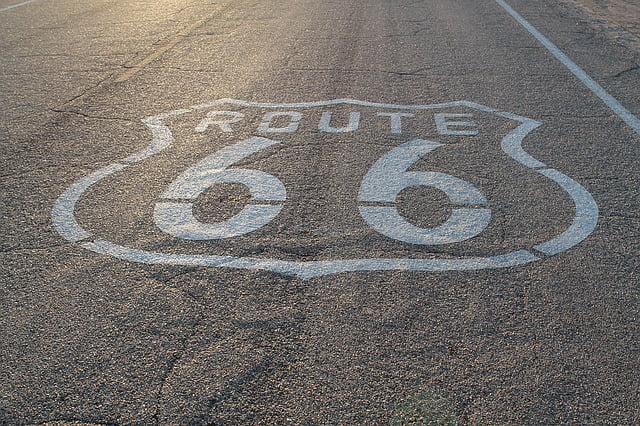 Albuquerque
6) For all the Breaking Bad fanatics out there, you will love Albuquerque where the famous TV series was filmed, and you can even take a Breaking Bad bus tour! After your tour you can visit the stunning Sandia Mountains via the Sandia Peak Aerial Tramway which offers breath-taking views from start to finish.
Holbrook
7) Our next stop would be Holbrook in Arizona where you can go and see a fascinating 50,000 year old meteor crater and their Petrified Forest National Park which is home to large deposits of petrified wood and magical forest.
The Grand Canyon
8) The most famous natural wonder of America, The Grand Canyon. This over-whelming splendour offers an unforgettable and breath-taking experience for everyone. You enjoy the scenes from a range of options such as a guided bus tour, a helicopter ride or guided walk around the North Rim. The Grand Canyon is ancient, and when I say ancient I really do mean it. It's believed that the canyon was carved from the Colorado River in the past six million years, with rocks in the canyon that have been found to be over 2 billion years old! WOW!
Las Vegas
9) If big cities and bright lights, short days and long nights is your thing then Las Vegas is next! This dazzling, vibrant and loud city is known as "Sin City" as people from all over come to gamble their luck in the many casinos. If gambling isn't your thing don't worry Las Vegas hosts a colourful selection of glamorous hotels, restaurants and bars offering a wider range of entertainment including shows and acts. We recommend you visit the Caesars, Wynn Las Vegas, The Venetian, and the Bellagio.
LA
10) If you haven't yet had enough of the glam and part lifestyle then LA, home and playground to the celebs is next. Drive down to Beverly Hills for some celebrity spotting where you can see the grand homes where they live. For something a little different, try the Los Angeles County Art Museum which is home to the likes of Picasso and Monet. You also have the famous Universal Studios in Hollywood which is the most visited place in all of LA.
Sadly after LA your unforgettable, awe-inspiring Route 66 road trip will come to an end. I always think even though the blues do kick in when you're back to reality, your memories will stay with you forever and that's why anyone and everyone should do this once in a life time trip! It doesn't necessarily need to cost you a "arm and a leg" as many travel agencies offer multi centre trips where they arrange all your flight, hotels and itineraries for you or you can create your own itinerary. If you want to see some other itinerary ideas check out this page.