The last few years has seen a growing trend in the number of couples who decide to marry overseas, no doubt in part due to the great thrill of escaping to a far flung destination to tie the knot. Many couples choose to wed on an island paradise if they marry internationally – think warm weather, spectacular sunsets, Cliffside, friends and family only, and cocktails by the beach.
Indeed, lots of couples find that an overseas wedding is more memorable than a local one, not only for the bride and groom but also for the guests who get to enjoy a mini-break at the same time as being supportive of the happy pair. If you're keen to consider an island escape for your nuptials, one of the following four paradises could end up topping your list.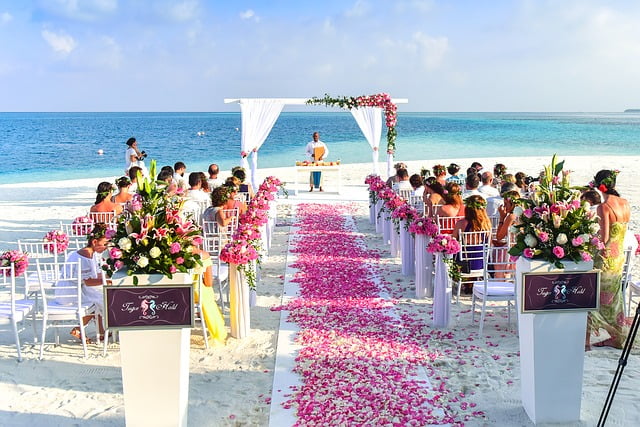 Hamilton Island
If you're keen to stay in Australia but want to experience the bliss of an island wedding, then Hamilton Island, on Queensland's Great Barrier Reef, might be the perfect choice. You can say "I do" on the beach, barefoot, with flowers in your hair and the smell and sounds of the ocean wafting over you, or opt for a more traditional restaurant or church setting.
The five-star luxury resort Qualia is popular with couples, as is the beautiful All Saints Chapel. For panoramic views of the majestic island paradise you can't go past One Tree Hill for your ceremony. Whichever option you prefer, don't feel that you need to make all the plans by yourself. The Island is home to many wedding planners who can help with all the details for your big day. One such company is Hamilton Island Weddings, a family-owned event planning company who can organise a wedding to suit your particular budget. While visiting Hamilton Island you can also enjoy romantic strolls along the beach, snorkelling and swimming in the crystal-clear waters or some R & R time at a spa.
Fiji
Another popular wedding destination is Fiji. Located in the South Pacific, just a short flight from Australia (starting at around three hours from Brisbane), Fiji provides travellers with temperate weather year-round, picture-perfect locations and the renowned Fijian welcome.
Couples and their friends and families can indulge in a raft of activities while visiting the country, such as diving, snorkelling, golf and shopping. Couples who want to take the stress out of planning their wedding can arrange their nuptials through a variety of resorts on the island that cater to every detail.
For example, hotels such as the Outrigger on the Lagoon, the Malolo Island Resort and the Fiji Beach Resort & Spa Managed by Hilton, have wedding packages for 20 guests that start from around $9,000USD for the reception and ceremony plus accommodation for the couple. Book flights to Fiji with Fiji Airways and you can find yourself getting into the Fijian groove before you even land on the island. Let the friendly folks at Fiji Airways know you're on your way to get married and you might find a little treat for you and your beloved on board.
Vanuatu
Vanuatu, also in the South Pacific region, plays host to many weddings and caters to anything from budget nuptials to lavish parties with all the trimmings. Popular with couples who prefer somewhere more 'untouched' than a lot of popular islands, Vanuatu is also perfect for honeymoons.
Some popular venue choices include Bokissa Private Island Resort in Espiritu Santo; Eratap Beach Resort on Efate Island and Irriiki Island Resort and Spa near Port Vila – all of which can be organised through event planners such as Weddings Vanuatu. While in the region many couples also like to take advantage of the fantastic scuba diving conditions or enjoy plenty of pamper time at a local spa.
Bali
If you prefer to choose a more Asian-inspired theme for your wedding then Bali could be just the spot. With a laid-back atmosphere and beautiful tropical setting, Bali (just a few hours away from Australia and located in the Indian Ocean) is a popular choice with many Australian couples. Although the choices can be quite overwhelming since the country is awash with scenic wedding locales, The Society of Bali Wedding Professionals is on hand to provide help. This group of wedding and events experts in Bali provide a one-stop resource for everything you need to plan the perfect Bali ceremony and reception.
If you decide to have your wedding overseas then ensure you pack all the necessary items before you leave. You'll need to have all of the correct documentation of course, including your passport, a Certificate of No Impediment to Marriage, your birth certificate, and a certificate of divorce if you have been married before. Also be aware that there is generally a waiting period for marriages overseas, which can vary from country to country. Contact the Foreign Affairs and Trade Department for the best way to arrange an overseas wedding and ensure you have all the necessary paperwork ready to go before you leave.