Stumbling across a beautiful sunset always feels a bit like magic. I don't know about you, but I'm usually too busy rushing around to stop and admire it properly, which is why I always aim to sit down and really enjoy a couple whenever I'm on holiday. In fact, I tend to seek out destinations that are known for their gorgeous sunsets, and I think I've come up with the ultimate top 5.
1) The Maldives
First on my list is the Maldives. This beautiful Indian Ocean archipelago is famous for its fantastic combination of utterly unspoilt scenery and incredibly luxurious hotels.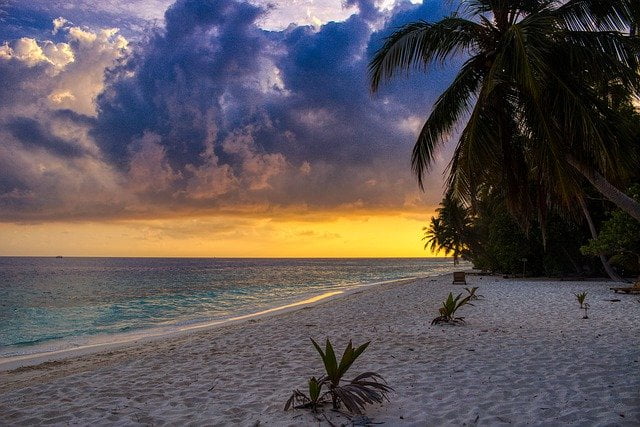 Made up of more than 1,000 islands split across 26 atolls, the Maldives is known for its tranquil lagoons, stunning beaches and lush vegetation – so it's perhaps no surprise that this is one of the world's top places to see the sunset. No matter what island you stay on, you'll get an amazing view – be prepared to be blown away.
2) Santorini (Greece)
My next suggestion is scenic Santorini, which is a Greek island celebrated for its beautiful blue-domed churches and authentic cuisine. Personally, I think this is easily the best place in Greece to watch the sun go down – particularly if you head to the little village of Oia. From here, you'll get a completely uninterrupted view of the sunset, with the added bonus of being able to see the nearby islands in the distance.
3) Serengeti National Park (Tanzania)
If you want to see the ultimate sunset in Africa, my next suggestion is where a lot of people say you should go – and, to be honest, I can't really fault their argument. Seeing the sunset over the Serengeti in Tanzania is an experience like no other; the plains and sky flood with an intense orange light, while the trees and animals alike are transformed into striking silhouettes in a scene that's at once incredibly calm and utterly arresting.
I'd also like to point out that the sunrise here is pretty magical too. For an unforgettable way to enjoy it, organise a hot air balloon safari – these last for around an hour at dawn.
4) Matterhorn (Switzerland)
Providing a total contrast to the Serengeti, the Matterhorn in Switzerland is my next suggestion for an amazing sunset – and it should probably top your list if you're into adventure sports. This mountain, which is often said to be the most photographed in the world, is famously hard to scale and is very popular with climbers and adventure enthusiasts.
For a really great view of the peak, get the cable car from Zermatt, which will take you to the top of the Klein-Matterhorn – the smaller mountain that sits right next to it.
5) Barcelona (Spain)
Last on my list is Barcelona, which is one of my favourite European cities. It might not seem like the most obvious sunset destination, but that's partly why I chose it – it has something quite different to offer.
Barcelona is a beautiful city home to fabulous architecture and a great atmosphere. There are lots of great spots to watch the sun go down here, but I think the harbour is one of the best.
Where do you think the best places to see the sunset are? Leave a comment below and let us know!