The Cameron Highlands are where Shangri La meets high tea. Located on the western edge of the state of Pahang, Malaysia, the Cameron Highlands sit at over 1,100 metres (3,600 ft) above sea level, and consequently offer much cooler temperatures than the surrounding region. It is a popular destination for those desiring extended hiking vistas, and those who just want to cool off.
Most tourists arrive to the Highlands by bus ride from Kuala Lumpur. Once you find a hotel in town to use as your base, then you are free to explore the 14 trails that take you through fields, forest, waterfalls, local markets, and the exotic flora and fauna of this unique area.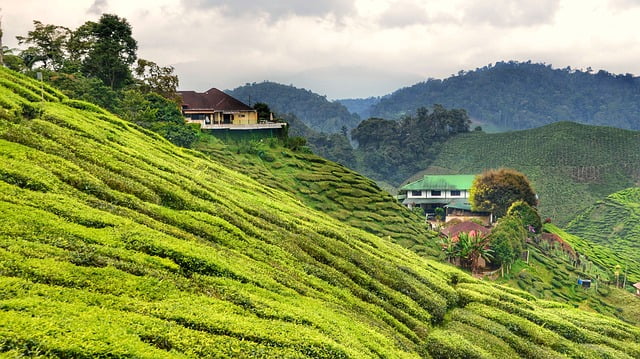 Visit the Tea Plantations
There are tea plantations throughout the Cameron Highlands, open to tourists. The largest and most famous is the BOH Tea Estate, close to the town of Brinchang in the center of the highlands. You can walk to the BOH factory from the famous Market Square. Your trip will pass through picturesque tea fields and workmen's villages with blue-green houses. This tea factory still uses its original 1930's processing equipment. Almost a working museum, here you will learn every aspect of tea cultivation and preparation. Those who have been report the trip among their favorite adventures.
Go to a Strawberry Farm
In addition to tea, the Cameron Highlands is home to farms of watercress, orchid, rose, cactus, and most notably, two strawberry fields in the western region of the Highlands. Here you can pick your own fresh strawberries, and enjoy strawberry pancakes and strawberry coffee, to name a few. You can also overload on every kitschy strawberry memorabilia imaginable. Strawberry Farms are a nice lunch stop between visits to the Butterfly Gardens, where you can see giant butterflies up close as well as a wide range of horned beetles that are unique to this region.
Hike the Mossy Forest
Private guides and tours are available for treks into the Mossy Forest of Gunung Brinchang, the highest (6,666', 1840m) peak in the Cameron Highlands. Guides are not required, however, and you can rent scooters for a ride to the Moss Forest Boardwalk, for example. If you have seen even one picture of this moss covered misty rainforest, then you are likely already booking your trip.
Visit the Local Temples
Sam Poh Buddhist Temple is the largest religious house in the Highlands. Additionally, there are many Hindu Temples throughout the region, where Sri Thendayuthapani Swami Temple is famously the most ornate. Both of these venues welcome visitors. Sri Temple hosts a springtime festival.
Relax in a Hotel with a View
The grand hotels of the Cameron Highlands grew up along side the tea plantations of the middle 1930s. With modern additions, they are still renowned for their hilltop vistas, golf courses, and afternoon teas. Online hotel bookings of these properties is very easy. You can visit various online booking sites to secure your Cameron Highlands hotel. If you dream of experiencing the romance of a colonial plantation picnic, then you are in the right place.