With minimal budget, you might never complain to stay up late to get discounted flight tickets.
Or, you might never complain when you have to sleep in a very basic hotel under budget. No AC, no WiFi, no free breakfast, you don't even expect a pool.
But! If you are planning a backpacking trip to Bali, you can expect all of those under only USD 15 per night.
Here are the top five most budget hotels in Bali with a pool under USD 15 that you probably didn't know exist.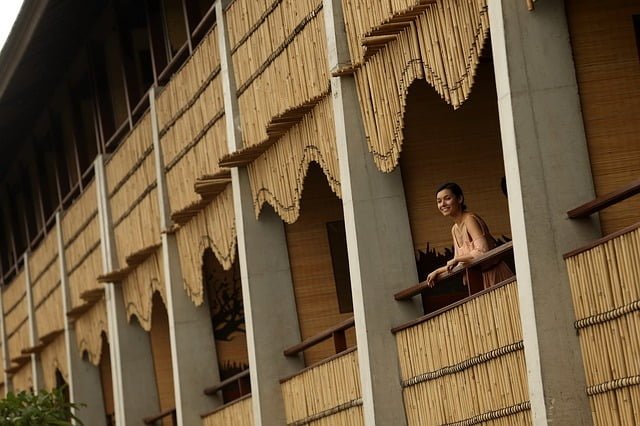 Sandat Bali Legian
Two outdoor pools in different sizes and depths will brighten up your day in Sandat Bali Legian. Not in a mood to swim? You can just relax at a gazebo beside the pool and enjoy delightful meal from the outdoor restaurant. Doesn't really sound like a budget hotel, huh?
A mixed of traditional and modern architecture can be easily sensed by looking at the hotel exterior. Minimalist design reflected in every guest room offering decent facilities such as Cable LCD TV, AC (on most room types), free WiFi, balcony and working desk. Shower and free toiletries are available inside the bathroom.
Starting from USD 13 per night, you can get an amazing hotel stay at Sandat Bali Legian.
A Residence
Placed on its roof top, A Residence's outdoor pool will give you the next-level experience of a budget hotel. Feeling exhausted? Sauna and massage service can be arranged for you upon request.
Every room is decorated with minimalist design and soft ambient light added to your convenience. More than standard facilities available in your room, such as free WiFi, AC, refrigerator, safe deposit box and plasma cable TV.
All of those treats can be all yours starting from USD 15 per night.
Abian Boga Guesthouse
Backpacking with kids? Abian Boga Guesthouse is a perfect choice because they have children playground inside the hotel.
Dark blue color is seen from the Abian Boga Guesthouse's pool, surrounded with natural stones. As an alternative, billiard table is available for free inside the hotel.
Free WiFi, TV, AC, mineral water and DVD player are all available in each guest room. An outdoor restaurant in the garden is always ready to serve you with refreshment all day long.
Abian Boga Guesthouse gives you much more than a budget hotel experience with just USD 15 per night.
Next Tuban Bali
"Majestic" is a perfect word to describe the luxury charm of Next Tuban Bali's exterior. Two-level pillars surround an outdoor pool inside the hotel.
Next Tuban Bali's guest rooms are equipped with free WiFi, LCD cable TV, AC, minibar and safe deposit box. Next Coffee Shop is ready to fulfill your needs from breakfast to dinner with its mouth-watering Asian cuisine.
For the luxurious glimpse that Next Tuban Bali offers, it costs you only USD 14 per night.
Bali Dream Costel
Simple and functional, Bali Dream Costel is not like an ordinary budget hotel you have normally have in mind. Semi-outdoor pool is available inside Bali Dream Costel.
Purple colour blends with minimalist design is nicely reflected once you enter the hotel.  Bali Dream Costel equips their guest rooms with free WiFi, AC and LCD cable TV. In addition, massage and laundry service are available upon request. Secure free parking is available without reservation if you bring a car or motorcycle.
Bali Dream Costel is the cheapest budget hotel on our recommendation list, starting from USD 12 per night.
If you've been collecting Chase Sapphire Preferred Rewards, this would be a good time to use them. This program allows you to earn 50,000 bonus points after you spend $4,000 on purchases in the first 3 months from account opening. That's $625 in travel when you redeem through Chase Ultimate Rewards, and that can go a long way in Bali!