Edinburgh is the capital city of Scotland and also Scotland's cultural capital. This amazing and cosmopolitan city has an upbeat atmosphere and many beautiful attractions to see, so if you're ready to head up to 'Edinbra', here are some of the places we recommend you visit: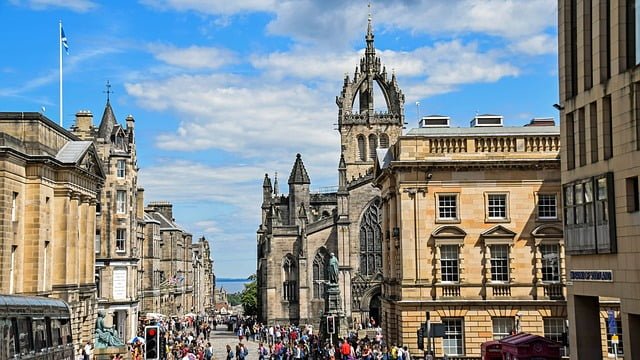 Edinburgh Castle
Edinburgh's joy and pride is most likely its iconic Edinburgh castle which is located on a hill. The Edinburgh castle is visible from  many areas of this city. Once you visit this place, you can explore both the inside and the outside and learn more about the history of the castle. You can also see and learn more about Scotland's great hall, prisons and crown jewels. Tickets are thirteen pounds per adult; the Edinburgh castle is normally open to the public 7 days a week, from 9:30 am to 6 pm.
National Museum of Scotland
The national museum of Scotland located in Edinburgh has a lot of things to see and also learn about such as Dolly, the original cloned sheep, the Lewis chessmen and the culture section where you will find things such as autographed copies of Harry Potter movies and books signed by Scottish actors like Ewan McGregor. This museum is open every day from 10 am to 5 pm.Admission is free.
Arthur's Seat
Arthur's seat is a small hill or mountain located in Edinburgh. It's supposedly named after legendary king Arthur. Arthur's seat is 822 feet tall. Climbing Arthur's seat is definitely an amazing activity and it's also very easy that most persons can do it. Once you are at the peak of Arthur's seat, you get a very good view of Edinburgh.
The National Gallery of Scotland
This is actually an art museum where you get to see the work of some of the most talented and famous painters. You will see artists' work such as Monet, Van Gogh, Rubens, Rembrandt and other familiar names. The national gallery is open every day from 10 am to 5 pm.Admission is free.
Edinburgh Writer's museum
If you are a big fan of literature, the Edinburgh Writer's Museum is the place to be. It's a small but very comprehensive museum housing items and works from Scotland's 3 most famous writers: Sir Walter Scott, Robert Louis Stevenson and Robert Burns. Its open from 10am to 5 pm, admission is free.