The Isle of Skye is a world-famous Scottish Highlands' Island that was recently voted the fourth top tourist island by the National Geographic Society. For an incredible encounter with the great outdoors and an amazing discovery of Scottish culture and tradition, come to Skye. You'll get a taste of adventure that you'll never forget!
After crossing the bridge from the mainland, you will want to get out to sea. The Bella Jane Boat Trip will take you to Loch Coruisk in the midst of the Cuillin Mountains in Scotland. You have the option of merely skirting by the beautiful coast or going ashore to explore. Wonderful birds and seals will be among the wildlife in view. You can also do the AquaXplore trip to nearby small islands and see whales, dolphins, puffins, eagles, and more.
The Clan Donald Skye Visitor Center offers a unique look at the Highland past. See the partially restored Scottish castle, wander through the blooming gardens, investigate the Museum of the Isles, and peruse the Library and the Study Centre. A cafe converted from old Scottish stables that were on the estate can be dined at, and there are gift shops on-site as well.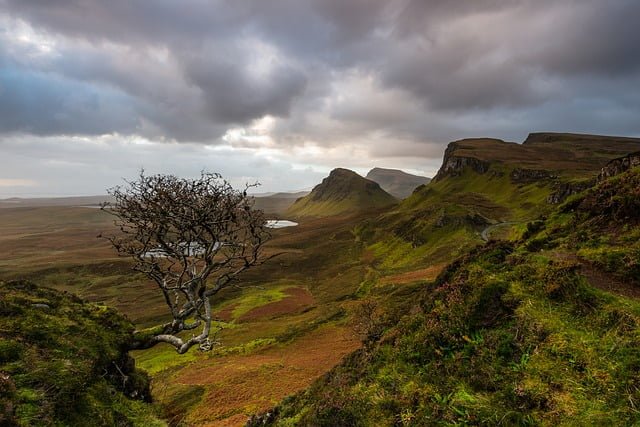 A must-stop is Skyeskyns. This company manufactures sheepskins and sheepskin products. You can view an exhibition of the traditional means of tanning leather and look over their vast array of sheep products.
Visit the Talisker Distillery, and you can see how Scottish brew begins! Take either the Talisker Distillery Tour or the Talisker Tasting Tour. See the giant metal drums of rum, and learn about both traditional and modern distilling methods.
Perhaps the most important stop of all is Dunvegan Castle and Gardens. This castle is the 800-year old home of the chiefs of the Clan MacLeod. You can tour the castle and the gardens. There is a waterfall. You can taste genuine Scottish cuisine in the cafe and purchase genuine scottish clothing in the gift shops. There is opportunity at the castle to sign up for tours for fishing, seal sight seeing, and wildlife observation.
This is an amazing island in Scotland. It has many campsites, bed and breakfasts, hotels, and museums. It has boat and ferry rides available. It has nature and Scottish culture. It is all here for you on Skye.