Depending on which of Bangkok's busy markets you end up visiting, you'll be able to find fresh produce, souvenirs, street stands serving up local food, and more. However the highlight of the street markets is the opportunity to immerse yourself in the local atmosphere.
Let's see a list of some of the best markets around town: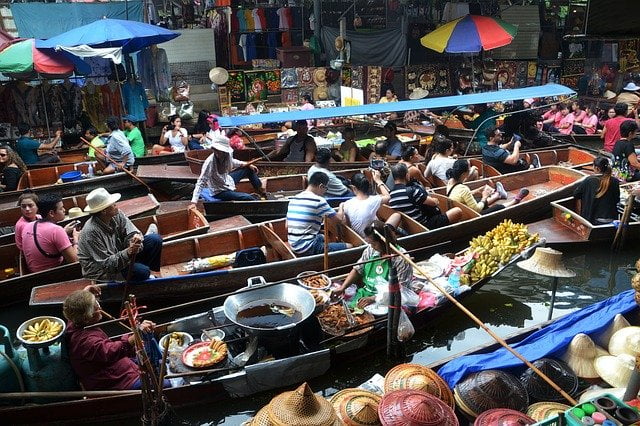 Chatuchak Weekend Market
This is the Thai market most tourists have a vivid memory of. It's so huge, that a great many people (even locals) have trouble finding their previous place. Bangkok's Chatuchak Market is one of the biggest market in the world and is home to around 8,000 different stands. This is where you want to come for some authentic pad thai or some sizzling satays fresh off the grill. It's working hours are Friday – 6 pm to midnight, Saturday and Sunday – 9 am to 6 pm.
Khlong Toei Fresh Market
Khlong Toei is Bangkok's largest wet market. This means that everything in the market is as fresh as can be – fruit and vegetables, meat, seafood. There are also some interesting clothes to choose from. Working hours are from 6 AM to 2 AM, and you can use public transportation lines 45, 46 and 72 to get there.
Pratunam Market
This market is located in one of the busiest districts in Bangkok, it's easily accessible by tourists, and you'll find a lot of people shopping for souvenirs. This market focuses mainly on clothes, but there's a variety of traditional Thai souvenirs as well.
Sampeng Market
This market is most easily reached by boat ride, and it's always jam packed with people looking for a bargain. And there are lots of bargains, for clothing, jewelry, technology and everything you can think of.
Saphan Phut Night Market
Not very popular with tourists, this Thai market often houses a lot of random/temporary stalls that can feature anything. You might find a very good bargain there. Once you visit, be sure to try the fried shrimp they offer. It is simply delicious.
If you ever end up in Bangkok, don't miss up on traversing the local markets in Thailand. You won't be disappointed.