If you're planning a weekend in Pembrokeshire, Wales, you're in for a treat. This cozy coastal county is made up of lush landscapes, majestic mountains, hidden caves and lively wildlife. Available activities range from hiking, fishing, exploring caves and jumping off cliffs. Since time is limited on a weekend trip, here are five things you don't want to miss:
Barafundle Beach
This pristine, quiet beach makes quite an impression. You arrive via walking paths teeming with beauty and marine life. It's not unusual to catch otters taking dips in lily ponds along the way. At the beach you are treated to gold-colored sand and enchanting turquoise water. With a castle wall completing the scene, you'll practically feel like royalty.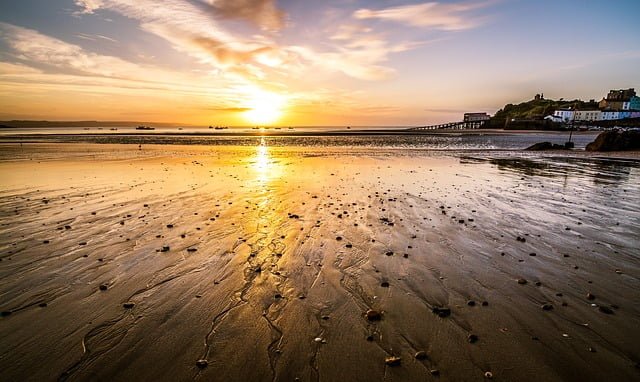 Skomer Island
This is one place where you don't want to forget your camera. The views alone are breathtaking, as local birds might agree. This is a favorite hangout for puffins, and you might get great photo opportunities. Be sure to look up to catch birds flying off cliffs, but don't forget to look below, too, where seals and dolphins may be making appearances.
Pembrokeshire Coast National Park
This all-in-one expedition lets you experience Pembrokeshire's grand coast, caves, beaches, hilly landscape and natural rock formations. The scenery is pure magic. Attractions include the remains of Abereiddi Tower, which once served as a guide to boats entering the harbor.
Caldey Island
Rich in history, a stroll on this Island is like a step back in time. Here is the home of limestone caves, the famous 6th century Cistercian monastery and lots of trees, whose dense population add to the sense of seclusion. You can fish, swim or simply admire the views. Do stay alert, as finds on this Island have included giant ox bones and Roman coins.
St. Govan's Chapel
This brief visit is perfect for a brief vacation. Built into a limestone wall, the small chapel sits on a slant. You reach it by climbing down a cliff. There are reportedly 52 steps, but count them both ways. Legend has it the number differs depending on whether you are climbing up or down!
Now, go and make your Pembrokeshire weekend fun to remember!