Xian is one of the most popular destinations for travelers visiting China. With its many underground attractions, we have prepared a list of 5 things to see and do on a visit to Xian, China.
1) Terracotta Warriors Museum
Terracotta Warriors Museum is a UNESCO World Heritage site that houses more than 8000 warriors and horses made from terracotta clay. It also has on display 10000 bronze weapons. Ongoing excavations in the area reveal new artifacts every day. The clay models are believed to be replicas of Emperor Qin Shi Huang's real army and no two models look alike.
2. Big Wild Goose Pagoda
Big Wild Goose Pagoda is a symbolic structure in Xian that is seven storeys tall and 64 meters high. It was built 1300 years ago to mark Xian as the capital of the prospering Tang Dynasty's kingdom. The roof offers a spectacular view of the city while a variety of entertaining events are hosted at the foot for the public to see.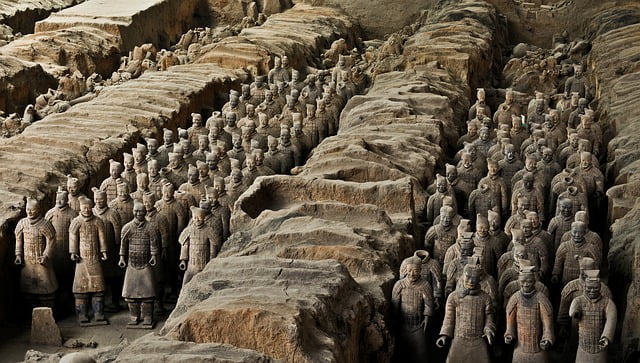 3. The Ming Dynasty
The Ming Dynasty built the City Wall of Xian 600 years ago and this fortification has been preserved rather well over all these years. A bike ride along the wall is the best way to tour it. Made from quicklime, earth and glutinous rice extract, this wall is 13.74 kilometers long, 12 meters high and 5 meters wide.
4. The underground Han Yang Ling Museum
The underground Han Yang Ling Museum houses the tomb of Emperor Jing Liu Qi of Western Han as well as a number of clay figures. The tomb itself spans over 20 square kilometers and comprises of 80 chambers. It was completed in 126 BC and houses less magnificent but a larger variety of clay figures than the Terracotta Warriors Museum.
5. Mount Huashan
Mount Huashan is located 120 kilometers east of Xian and it is one of the most adventurous mountains in China. It is 2155 meters high and has incredibly steep slopes that you can trek along. The 700 year old, 50 meter long plank path on this mountain range is a must visit for visitors.