With all the vibrant, beautiful and cultural countries of Europe it's a fantastic place to visit any time of the year, but at Christmas time it can be quite spectacular and magical. This is due to Europe hosting some of the best Christmas markets in the entire world.
In this article we have chosen 3 of the top and most visited Christmas markets in Europe to tell you what makes them so special and why you have to visit them!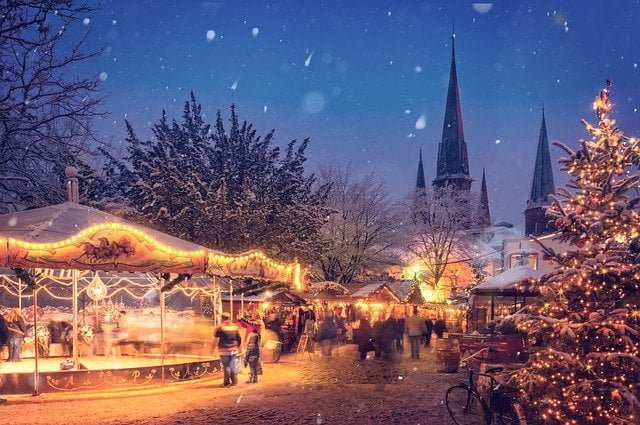 Brussels (Belgium): This beautiful country has run their Christmas market for only 12 years; nevertheless it certainly does not compromise on the traditional, authentic and delightful vibes that other European Christmas markets offer. Situated by the Grand Palace you will find a night light show and a market surrounding the Bourse and Place Sainte Catherine with 240 wooden chalets that offer handmade gifts, graft and souvenirs from all over the world. To complement the fine arts and crafts you have delicious Belgian food stalls offering waffles, chocolates, mussels, fries and more. If your stomachs have not yet indulged in enough Belgian delicacies then get yourself to the famous and very powerful Ale and Beer stalls. After your food, shopping and drinking you will find at the end of the market an ice skating rink and Ferris wheel which you have to try. The Belgium markets start late November and run through until the 1st of January.
Copenhagen (Denmark): One of my personal favourites is the Christmas markets of Copenhagen, where you will find a 4 mile path of lights that are carefully positioned and hung to create a truly magical and mesmerizing scene. You can the indulged in the mouth-watering snacks and drinks of the market stalls, boasting a fine range of mulled wines, almonds, doughnuts and more. If you're looking for crafts and gifts head to the canal in the historic Nyhavn District where you can also see the town crier from 5-6pm on weekdays. The Copenhagen markets start mid-November and finish late December.
Prague (Czech Republic): The most famous and best of the countries Christmas markets are situated in Wenceslas Square and the Old Town Square, formed around a magnificent giant Christmas tree. The beautifully decorated Christmas stalls offer you a variety of sweet tasting pastries, gingerbreads and cookies alongside a selection of warm mulled wine to cleanse your palate. Once you have filled your belly, take a wonder to explore the bohemian crystals and jewellery, handmade crafts and classic Czech marionettes. This particular market is a must see for anyone visiting at this festive time of year.
Any of these cities make for a great weekend break, or why not consider a longer trip and combine several cities in to one multi stop holiday. Pretty much any itinerary is possible but eShores feature some suggested itineraries which are worth checking out for some ideas.