Paris, the capital of France, is undoubtedly one of the most sought-after holiday destinations in the world. Even though a metropolitan city, Paris has an unabashed romantic appeal and a timeless splendour. Paris houses architectural marvels, polished boutiques, exquisite cafes, and much more. Though all of this comes at a price, the good news is that you can enjoy Paris even on a modest budget. The ideal time for a pocket-friendly tour of the city is during the non-peak season. Generally, the lowest prices for travel and accommodation are offered between the months of October to March. If you are on a tight budget trip with friends or family, it is recommended that you hire a car from Firefly at the airport upon your arrival and set out to explore the city without having to spend a fortune.
See 
Paris cannot be imagined without the Eiffel Tower. Visit the world famous structure to marvel at its sheer grandeur. Another imposing monument is the Arc de Triomphe. Other popular places include the Sacre Coeur and Promenade Plantee, both of which are free for all visitors. Do not forget to explore the artistic treasures in the museums of the Musée Carnavalet, Musée de la Vie Romantique, and Musée d'Art Moderne de la Ville de Paris. Entry to all these museums is free throughout the year.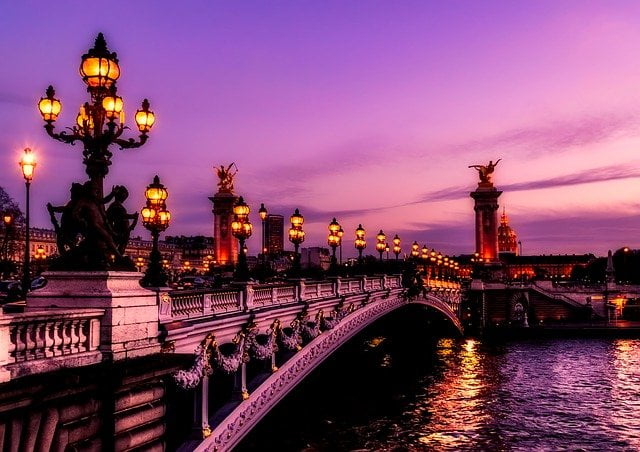 Participate 
The city hosts a number of free festivals and events throughout the year like the fireworks and military parades for Bastille Day, the Paris Plages in August, the Nuit Blanche all-nighter, the Fete de Vendanges grape harvest festival in Montmartre in October and the Christmas markets in December. You can attend these and sample the unique culture of the city without spending a dime.
Eat 
For value for money meals, look out for prix fixe or formule menus in restaurants, which give you a two to three course meal for a fixed price. The best way to relish authentic French delicacies without splurging is to enjoy the capital's street food. From falafel in Le Marais to crepes in Latin Quarter, you have plenty of options to choose from. And of course, you can always visit the little roadside cafes that the city is so famous for.
Shop 
Paris is often referred to as the "fashion Mecca." The city is, quite literally, embellished with several attractive fashion outlets. Even if your budget does not allow you to splurge on famous designer brands, don't be disappointed. Your options don't end there. You could visit attic sales in certain Parisian neighbourhoods, moderately-priced vintage stores such as Chine Machine in Montmartre, and Frip Sape near the metro Jacques Bonsergent, as well as the cluster of flea markets next to the métro at Porte de Clignancourt for some no-nonsense, budget-friendly buys.
Budget or no budget, Paris is a city that has treats for everyone!