Cologne, Germany borders the Rhine River in the German state of North Rhine-Westphalia. With a population of over one million, it is Germany's fourth largest city. Cologne has a reputation as one of the most liberal cities in Germany due to a variety of attractions, landmarks and a thriving arts scene.
German Sports and Olympia Museum
Located in what was once a 19th century warehouse, the German Sports and Olympia Museum in Cologne encompasses two floors of exhibition space. A permanent exhibition on the first floor takes visitors through 2500 years of sporting history. The museum icludes over 3ooo exhibits, film documentaries and the option of active participation at multiple media stations.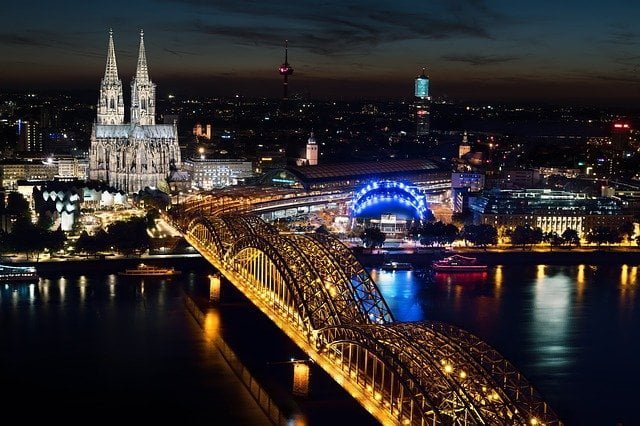 Claudius Therme Cologne
In Rheinpark, next to the Rhine, lies Claudius Therme Cologne, one of Europe's most stunning thermal spas. Its pleasing architecture is greatly influenced by the spa culture of ancient Rome. With both indoor and outdoor pools and saunas, it is a friendly haven for the temporary escape from frantic modern lives.
Zoo Cologne
With over 500 animal species from every continent and ocean in the world, Zoo Cologne is an attraction worth the visit. Experience the majestic power of elephants in Elefantenpark, the biggest elephant enclosure north of the Alps. In addition, visit apes, feel the searing heat of a jungle and learn about the underwater environment of coral reefs.
Cologne Cathedral
The second tallest church in the world and the largest in Northern Europe, Cologne Cathedral took over 600 years to complete. Thousands of visitors each day visit this UNESCO World Heritage site. Beautiful statues, detailed carvings and dozens of stained glass windows are a testament to architectural ingenuity.
Imhoff-Stollwerck Chocolate Museum
Museum exhibits display the history of chocolate at The Imhoff-Stollwerck Chocolate Museum. See how chocolate Easter Bunnies are made and view historic films and advertisements used throughout Europe. A well-stocked gift shop and cafe lie just below and outside along the Rhine.