Talk to anyone in New York and they will tell you about their great escapes in the upstate mountain region of the Adirondacks. New Yorkers have been flocking to this beautiful locale for decades. The recreational enchantments of this six million acre adventure land is boundless and affords the traveller with many winter activities as well as loads of summer fun for the entire family.
Summer Family Camps
Summer Family Camps – Family camping in the Adirondacks is a tradition stretching back more than a hundred years. A couple of particular favorites are the Timberlock Resort and The Hedges of Blue Mountain Lake. The Timberlock offers rustic cabins with propane lamps and woodstoves. The Hedges offers a more modern getaway with stays in lodges or 1 to 4 bedroom cabins depending upon the size of your clan.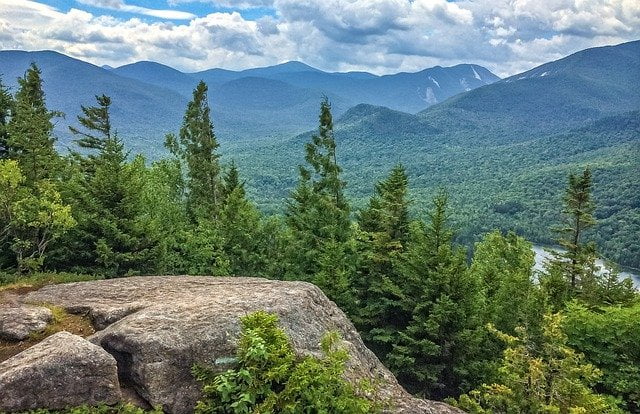 Water Theme Parks
Water Theme Parks – Two water parks dominate the hot summer scene in the Adirondacks. The Enchanted Forest Water Safari in Old Forge is the largest water theme park in the state of New York. It offers over 50 different water rides and attractions. The Six Flags Great Escape Lodge and Indoor Water Park offers up lodging and its indoor water attractions are available during the winter months.
White Water Adventures
White Water Adventures – The Hudson River flows through the Adirondacks and is listed as one of the top-10 whitewater rafting and kayaking destinations in North America. Peak season during ice and snow melt from the mountains in late spring provide class IV and V rapids that will surely thrill any adventure seeker.
Winter Carnivals
Winter Carnivals – One of the great traditions in this mountain region are its numerous winter carnivals. The Saranac Winter Carnival is the granddaddy of the festivals going into its 116th year of celebration. Highlights include the Ice Palace, which is carved from two-ton blocks of ice.
Alpine Skiing
Alpine Skiing – Winter drums up some of the hottest skiing in the region. Lake Placid, which hosted the 1980 Winter Olympiad, has many venues for winter sports opportunities. Whiteface Mountain hosted downhill skiing events during the winter Olympics is a popular destination.