La bella Italia! The best way to discover most of Italy's beautiful scenery is by car. With a car you're able to create your own ideal road trip. You decide when and where to go. No worries about a delayed train schedule or hot and crowded buses! You're in control of planning your own adventure. So what's keeping you? Get ready and head off to beautiful Italy!
To get you on the road we collected 5 amazing roads and routes in Italy, varying from 1 day to 1-2 weeks. Driving these routes will let you experience the true dolce vita! Book an agriturismo in advance to enjoy Italy even more. Also visit an independent car hire comparison website like EasyTerra, to get yourself the best deal on a rental car in Italy.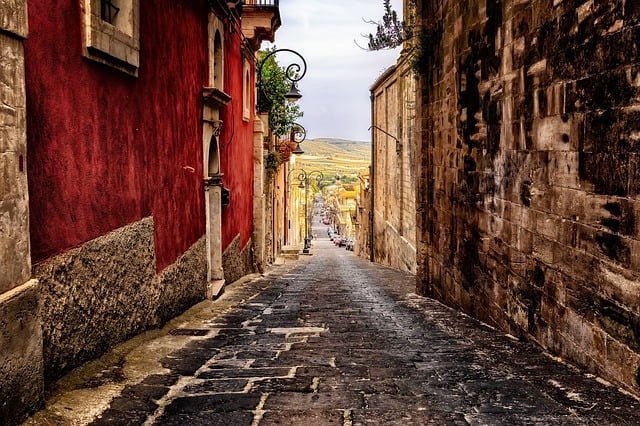 #1 Drive like a pro – The Stelvio Pass
50 km (31 miles) – From Spondigna to Bormio
1 day
The Passo dello Stelvio is one of the highest mountain passes, situated in the Italian Alps. You may know it for being a cycling stage in the 'Giro d'Italia'. According to TopGear (in 2008) it is the best driving road in the world. Knowing Top Gear's driving skills, it's only suitable for experienced drivers with a strong stomach because it has 48 hairpins! Or you could challenge yourself and ride it by bike!
It's best to tackle the road outside of the tourist season, as the road can get quite busy. Also, get up early to avoid traffic and experience the road at his best.
Start your trip at Spondigna – drive through the Stelvio National Park – reach the top by driving the 48 hairpins – drive down to Bormio.
#2 Drive the great Dolomite Road
110 km (68 miles) – From Bolzano to Cortina d'Ampezzo
1 – 2 days
The Grande Strada delle Dolomiti passes through three Italian provinces (Sudtirolo, Trentino and Belluno). While touring it you can't stop staring at the tall Dolomite peaks and you'll see many breathtaking scenic views worth stopping. The road can get very steep and narrow at some points. This trip is also very nice for motorcyclists.
Must see's and do's are the sky blue lake of Karersee, a hike at Val di Fassa, the hairpin drive at Passo Pordoi, a cable car ride to the top of the Sella Plateau and a walk along of it's steep edges (if you dare).
Start your trip at Bolzano (SudTirolo) and drive to: Eggental – Welschnofen – Karersee – Passo di Costalunga – Val di Fassa (Trentino) – Canazei – Passo Pordoi – Arabba (Belluno) – Buchenstein – Passo di Falzarego and finish in Cortina d'Ampezzo.
#3 Classic(o) Tuscany – Chianti Wine Route
100 km (62 miles) – From Florence to Siena
2-3 days
The Chianti Wine Route is one of the most beautiful drives through Tuscany. It takes you through the oldest wine regions in Italy, Chianti, and passes five medieval Chianti Classico towns. Along the way you'll see some of the most amazing sceneries in Italy: tall cypress trees, many vineyards and rolling tuscan hills.
Stop and visit some of the old towns and enjoy a guided tour on a winery. Try a Chianti wine and their local speciality Bistecca alla fiorentina (Florentine beefsteak). Book a agriturismo to experience the true Chianti lifestyle.
Start your tour in Florence and drive your way down to: Greve – Panzano – Castellina – Radda – Gaiole and end your trip in Siena.
#4 Travel to the green heart of Italy – Umbria
438 km (272 miles) – Circular drive from Perugia
3-4 days
Umbria: the green heart of Italy. Covered in a green hilly landscape with vineyards, olive trees and old medieval towns, it seems to have a lot in common with Tuscany. While most of the tourists choose to drive through Tuscany, Umbria is yet to be discovered.
This trip takes you on a small part of the Via Flaminia, an old Roman road from Rome to Rimini. Along the way you'll find many architectural, historical and cultural treasures, mostly related to Saint Francis of Assisi.
Start your road trip in Perugia (the regional capital) and drive to the valley of Via Flaminia: Assisi – Eremo delle Carceri – Spello – Foligno – Fonti del Clitunno – Spoleto – Monteluco – Montefalco – Bevagna and drive back to Perugia.
#5 Drive the coastline of Sicily
930 km (577 miles) – Circular drive from Palermo
1 – 2 weeks
Being the biggest Island in the Mediterranean, Sicily has a coastline of more than 1000 km! What better way to discover this island by a road trip from beach to beach? During the summertime the beaches can get quite busy, so also do some historic and cultural sightseeing.
For example visit the medieval town Erice (nearby Trapani), wander around Siracusa ruins or go on a tour to the vulcano Etna at Taormina.
Start your road trip from Palermo and drive to: Cefalù – Isola Bella Taormina– Cala Mosche Beach – Sampieri – Turchi beach and return to Palermo.