The Laugavegur, directly translating to "The Hot Spring Route" is Iceland's most famous trail, and one of the most famous hiking trails around the world. As a trekking holiday, volcanic deserts snake their way through valleys and hot springs are nestled beneath colorful mountains and magical glaciers.
It's a place with thrilling landscapes that reflect the mythical nature of Iceland – and for those looking for an adventure, there is no better place to find it than in Iceland!
From the rhyolite mountains to the ravines and ridges, the Laugavegur hiking trail is an experience unlike any other. The relaxing hot springs and the glacial valleys will show you why the Laugavagur trail is worth it.
In this article I will talk about what this trekking holiday includes, if it's right for you, what to expect and how to plan.
TREKKING HOLIDAY
Photo by Garrett Sears via Unsplash CC0
Some quick facts about Laugavegur
The difficulty of the trek: The trek is considered a challenging one and is not for people with very little fitness endurance. The trail requires needs endurance and if you don't think you have it, then it's very advisable to train well before.
How long the trek will last: The trek usually lasts anytime from three to four days and the more relaxed and flexible you are with your timing, the more you can stay. You can always try and explore extra places nearby or spend a few more days at one of the camps. But give yourself a minimum of 3 or 4 days in the beginning.
When is the best time to go: It's advisable to visit anytime between mid-June to mid-September but it's always better to visit in July and August for milder weather conditions.
Climate and Duration
The temperature: The temperature will be the most unpredictable factor of your trip and you will have to plan accordingly. The weather fluctuates rapidly and one day can be very cold and windy while a few hours later it can be sunny.
Where to start and end: You can either start in Thorsmork or you can start at Landmannalaugar.
To reach any of the starting points: You can take a direct bus from almost anywhere to reach the starting points and it's advisable to start at Reyjavik.
Luggage Storage: If you can, try and utilize the luggage storage at the airport.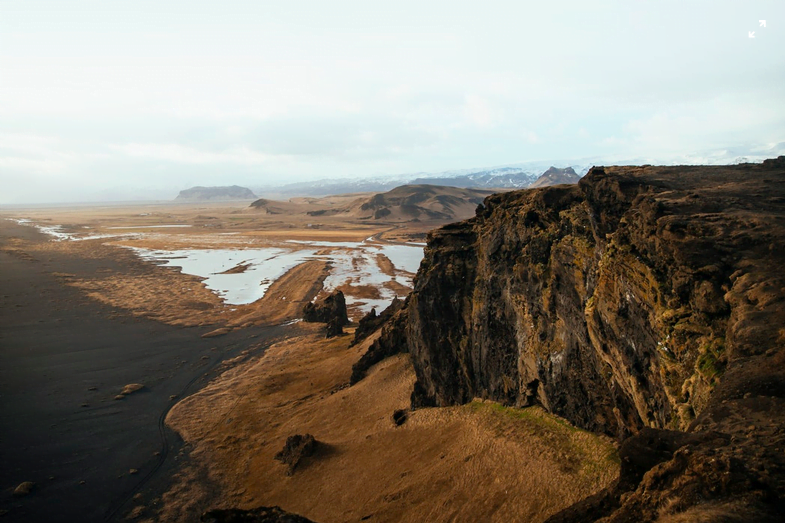 Photo by Tobias van Schneider via Unsplash CC0
Standard Itinerary to Iceland
Guided tour or solo travel?
Here is one of the main itineraries you can use to travel to Iceland, but if you don't feel like doing it on your own, you can find a lot of guided tour options that you can also do with your family.
The advantage of doing it on your own is the entire freedom that comes with it all, while being on a guided tour will give more structure and remove a lot of hassle from the planning.
The beginning route:
The route starts far away from Reykjavik – about 175 kms away from the capital. To start the trail, you will need to drive in a 4×4 car and make sure that the tires are higher than average. This is due to the fact that the road is made of rough gravel and sometimes you'll have to cross a few rivers.
Camping
Start by camping at: Landmannalaugar
This famous valley boasts the best attractions for all geothermal lovers. From hot springs that are perched beneath mountains to much more, this will be a great start to your trip. The thermal baths will act as great entertainment for your first day. It will be a much needed relaxing start for an otherwise challenging trek.
Move from Landmannalaugar to Hrafntinnusker.
This is considered the first stage of your trek, and from one lava field to another – it's completely normal to find yourself on top of a volcano. Volcanoes are lined with a plethora of different colorful slopes – from ash to red to black. The place is teeming with things to see – imagine volcanoes, lava fields, hot springs, and puddles. Top all of this with the occasional white snow on top of the fields and you've got yourself a straight-out-of-a-movie scene.
Start moving up, check out the volcanic fields and the black desert that's covered with snow (sounds otherworldly right?), check out the memorial for the traveler who died a few years ago and stop at the first hut – Höskuldsskáli.
Tips: You have to note that you are not allowed to take any rocks with you from Iceland. Another note is that there are no showers, no electricity (only solar panels which are used for the important things only), and there is no service/reception here. Lastly, if you will be staying at a hut, please note that you may have to book very far in advance.
More Trips
Moving from Hrafntinnusker to Álftavatn/Hvanngil.
This second part will be a lot less harder. The hike downhill will take about 4 hours, and you will find yourself moving up and down. Sometimes through gorgeous panoramic vistas, sometimes through green valleys, sometimes down mountain slopes and sometimes through glacial rivers that you have to walk through.
From Álftavatn lake –  Emstrur
You will still be crossing water (that gets very cold in general), and you'll also be walking through volcanoes, and glaciers and oasis's.
Emstrur – Thórsmörk.
On your trekking holiday, follow the river and check out the mountain famously named as the Unicorn, and after that you'll cross the last river. There, you're going to finally come across the most vegetation you've seen in the past 4 days. Other than the forest you'll be walking through, you'll be met with campsites that have saunas, restaurants and much more. It's perfect to end your trip with.
A few notes:
Please remember that you are not allowed to camp in the wild and you're not allowed to start a fire. You are also not allowed to leave any waste behind, or step on moss.

Photo by Quinn Nietfeld via Unsplash CC0
What to pack for Iceland
Before giving you a list of things to get with you in Iceland, it's very important to know that you need to plan every single thing with you. Every piece of wardrobe should be planned and the climate is not to be ignored. It's very unpredictable and you need to be prepared for every single condition. The hike is demanding, the weather is unpredictable and the level of difficulty is quite challenging. You'll be isolated in harsh weather so you must pack well. This is not to deter you, instead, this is so you can come prepared for all conditions. Your packing list will be the most important thing to plan in your holiday.
Things you Need
Waterproof hiking boots. This is very important. You need to get waterproof hiking boots that have been broken in before because the walks are long and challenging.
Thin sock liners. These are also important to avoid any blisters along the way.
Waterproof Jacket – Get waterproof jackets and trousers and make sure you have thermal layers with you.
Hat and gloves.
Wool hiking socks.
Fast drying layers.
Light-weight pants.
A jacket that's both waterproof and windproof.
Sleeping bag vs. thin sleeping bag depending on whether you're staying in a tent or in a hut.
Freeze-dried food.
Get a compass with you and a hiking map. Don't just depend on your phone.
A travel towel that dries quickly.
Get a high-quality tent if you're going to be camping.
Two portable chargers or one solar panel charger.
Get a cheap phone that you can use as a spare.
Lots of high-SPF sunscreen.
A swimsuit. You will be passing by the Blue Lagoon so it's nice to use your swimsuit.
Enough water with you.
Get enough food with you.
Don't forget your money – whether credit card or cash. Cash is preferable.
Things you don't Need
You won't need any kind of sprays – whether bug or bear as there are no mosquitos or bears.
Iceland is an incredible destination and even better when you're on a trekking holiday through one of the most famous trails there.