Kunming is the capital of Yunnan and it serves as the region's cultural, political and economic center. The tourism rate in this city is very high and that is why we have prepared a list of 5 things to see and do on a visit to Kunming, China.
1. Dianchi Lake is located 2 kilometers southwest of Kunming and it is the largest freshwater lake in the region. More than twenty rivers empty themselves into this highland limestone lake. The many scenic sites and mountains around this plateau make Dianchi Lake even more attractive.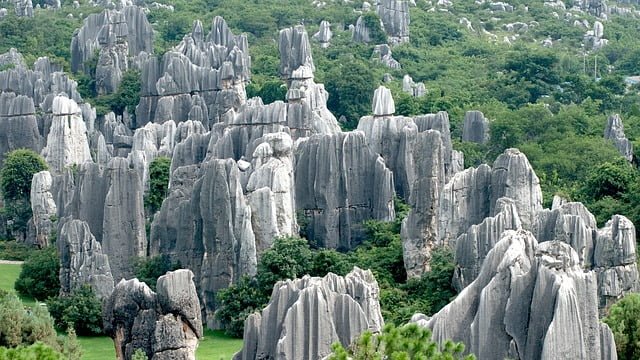 2. Stone Forest in Lunan Yu Autonomous County is regarded as one of the first natural wonders of the world. It dates back to the Ming Dynasty and happens to be divided into seven zones – Naigu Stone Forest, Greater and Lesser Stone Forests, Qifeng Cave, Zhiyun Cave, Moon Lake, Long Lake and the Da Dieshui Waterfalls. It is a beautiful attraction and you must make sure to see it before you leave Kunming.
3. The Western Hills are also known as the Sleeping Buddha Hills and they lie west of Kunming. The lush green landscape, blossoming flowers and dense forests make this site rather attractive. Its quiet and peaceful environment attracts many tourists through the year.
4. The Golden Temple is also referred to as Yingwu Hill and it was built during the reign of the Qing Dynasty. It is double tiered, 21 feet high, 25 feet wide, made of marble and has a dark patina that reflects its age.
5. The Black Dragon Pool is an ancient spot situated at the foot of Longquan Hill, 12 kilometers away from Kunming. Bamboo groves and towering tall trees surround the pool that has very clear water. A bridge divides the pool into two halves – one that is deep and the other that is shallow. Two temples can also be spotted near the lake.