The island of Kefalonia off the western coast of Greece is often best known for being the setting for the novel and movie Captain Corelli's Mandolin. This stunning small island is much more than an idyllic setting, it is also home to stunning beaches, natural landscapes and a large amount of historic monuments that reflect the stunning architecture of the history of both Greece and Kefalonia itself.
Myrtos Beach
In the mid 1980s the island of Kefalonia in the Ionian Sea was discovered as a tourism destination on a large scale. Beach holidays were the first attraction for many visitors, with the legendary Myrtos Beach providing visitors with a white sandy beach, in the distance the ruins of a Venetian castle stand guard over its small bay.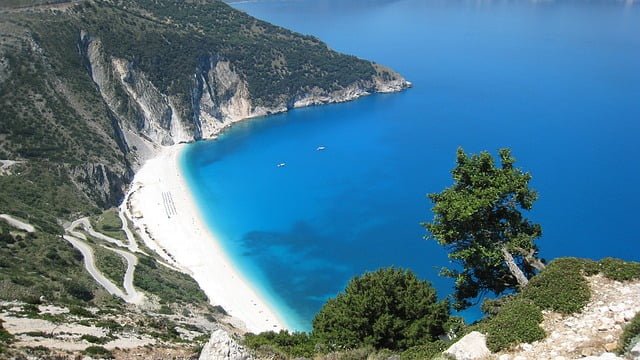 Melissani's underground lake & the Drogarti Caves
Kefalonia is not an island for simply sitting and relaxing, exploration is always important and the caves close to the town of Sima provide a stunning backdrop to any trip. Just a short drive outside the town lies Melissani's underground lake, which is a natural water feature hidden inside a cave. Close by are the Drogarti Caves, which were named for a local legend that claimed a dragon lived within the cavernous undergrounds caves.
Mount Ainos
Natural landscapes and stunning features are found in each and every area of the varied landscapes of Kefalonia. The height of Mount Ainos is the first thing many visitors see towering over the island. A closer look at the mountain beings the beautiful Enos forest into view, a fir tree forest that offers stunning views across the island.
Monastery of Saint Gerasimus
Culture is not forgotten on the island, with the ruins of a monastery founded by St. Francis of Assis still visible and the beautiful Monastery of Saint Gerasimus still working into the twenty-first century.
For visitors looking for a nature driven vacation a trip to the southern beaches of the island reveals the sea turtles that nest on the beach and offer a view into the nature that lies beneath the beautiful aquamarine sea.