They are one of the Premier League's top club, with a world-renowned reputation; they have the unrivalled title of "The Invincibles" having gone a whole season unbeaten and play their football in the heart of London, England; in their world-class stadium: The Emirates.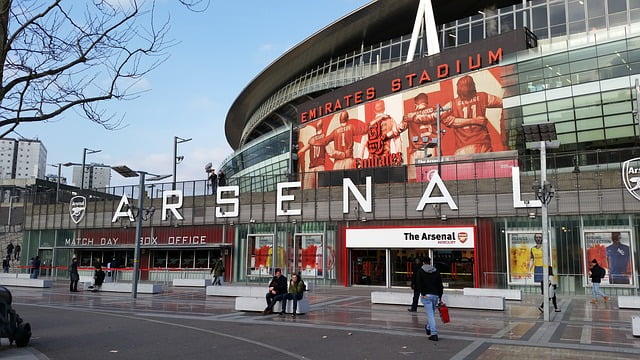 The Emirates stadium was a radical break away from the typical stadiums seen in Britain and the rest of Europe. It is the benchmark of modern stadiums and was one of the first to truly focus on the spectator's experience. The revolutionary design features an oval shape and removes the need for columns to support the structure. This combined with extra wide seats and the club has provided an exceptional viewing experience with unhindered visual access to the entire pitch while maximising comfort.
It is the revolutionary design which benefits the spectator and the first class reputation of the football team that calls the Emirates home, which surely attracted the attention of the airline which would eventually lend its name to the stadium.
Like Arsenal and their stadium, Emirates prides itself on providing innovation to their service in hopes of improving the experience and comfort of their passengers while they travel with them. They are also no strangers to awards and a high reputation; it is the world's biggest international carrier and has been voted as the "airline of the year" by Skytrax as recently as 2013.
Whereas Arsenal provided a great viewing experience and comfort by having wide seats and an unrestricted view; Emirates ensures that its customers have a great travel experience by providing state of the art chairs and an incredible entertainment system. Worry to find where to book a flight with this airline? There are so many services such as Hipmunk, Traveloka, Expedia, etc.
There is one specific thing runs between Emirates and Arsenal; that it doesn't matter if you're in the cheapest or most expensive seat, they do the best to provide you with the best care and service possible. This means that their care, devotion and innovation apply to economy class, business class and above.
Finally, when you consider just how internationally recognised Arsenal Football Club is, it has to be assumed that any airline it would have as its stadium sponsor would be as equally far-reaching. Emirates naturally fill this requirement as the world's largest international carrier. The airline is equally wide-reaching as it travels to 142 cities in 78 countries spanning across the six inhabitable continents.
While providing excellent entertainment and comfort is something that you'd expect both of these global giants would share, it may come as a surprise to learn that great food is also a shared trait. The days of a pukka pie and beer at an Arsenal game are long gone, and so are the days of complaining of bland and uninspired plane food. Arsenal created a new line of business for football clubs as it opened high-class restaurants on site for its fans to eat before a match. In comparison to this; Emirates has gone the extra mile, to ensure that every sitting served on its airline meets the high standards it sets itself. It prides itself on providing a complete list of complimentary drinks on all flights, including alcohol, as well as offering a diverse and specially prepared menu, specialised by region and dietary needs.
This all adds to a myriad of reasons for you to Fly Emirates, an Airline which prides itself on excellence and partners itself with excellence too.