Backpacking around the wine regions of the world gives you the freedom to sample some of their finest produce (would be rude not to!), all on a budget. These are regions that when you think of them, you also think of the grape. When you explore them, you'll see what makes them (and their grapes) great!
Take Portugal, for example, which is renowned for producing sweet wine and high- alcohol dessert wines such as Port wine. After growing under the baking hot sun, Port and Alvarinho grapes are then blended together for a potent but exceptionally delicious wine. Head to Douro, one of the country's top wine-producing regions, and you can savor an authentic Portuguese drink, soak up the hospitality and bask in the sun.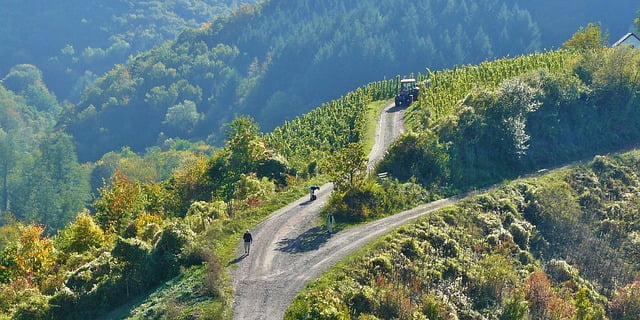 Maybe you fancy going sailing, in which case you can take a ferry from Portimão in the Algarve to the glorious Madeira Islands. As you watch the world go by in Funchal you can sip on some Madeira or other fortified wines. These wines range from very sweet to very dry and are absolutely exquisite.
Elsewhere in Europe, France is still in a class of its own for magnificent reds, crisp whites and refreshing roses. From Bordeaux in the west through to Alsace and its 151 miles of wineries in the east, backpacking around France whilst sampling her wine is an absolute must. And you don't need to just go for a mature claret either. There's always champagne of course, plus the third Thursday of November marks the beginning of Beaujolais Nouveau season. Vineyards compete to see which can be the first to produce, cap and deliver this fresh, fruity wine. Arrange your backpacking trip in November to join in with the celebrations (and see the competition heat up!)! 
Suppose your backpacking adventures take you further afield, to America for instance, and you should make sure that you sample the produce. Besides being a fascinating state in itself, California is home to a substantial amount of the wine that's produced in the States. Napa Valley has an extensive collection of wineries that produce marvelous merlots, perfect pinot noirs and cheeky chardonnays. With plenty of inexpensive places to stay, in addition to lots of parks and beaches, Napa Valley is a great place to both explore and relax. 
Likewise, if Chile is on your itinerary, no trip there is complete without sampling her wares. Chile is the fifth largest wine producer in the world, so if you plan to visit Santiago, make sure you visit Central Valley and its four regions of Maule, Rapel, Curicó and the Maipo Valley, known for its sublime cabernet sauvignon and sauvignon blanc.
If you're backpacking around wine regions then, there's only big one decision you have to make: Do you drink the wine and soak up the atmosphere in the very place in which it was produced, or do you take a bigger rucksack so you can enjoy it on your travels?!