Lush winelands, impressive beaches, incredible wildlife and endless landmarks, South Africa is a dream holiday destination. Here are the top landmarks to visit on your trip to South Africa:
Table Mountain
Arguably the most iconic landmark in South Africa, Table Mountain is one of the most visited natural landmarks in South Africa. You can reach the top of the impressive mountain by cable car where you'll get a breath taking panoramic view of Cape Town. There are beautiful botanical gardens to explore at the left of the mountain  with plants growing there from all over the world, with kaleidoscopic coloured flowers blooming all over the mountain.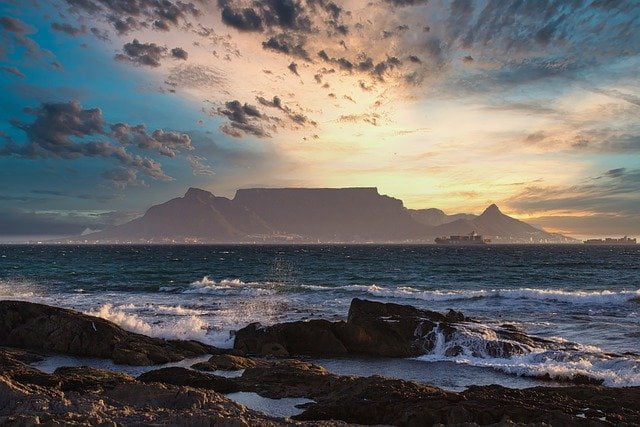 Cango Caves
South Africa's fascinating underground world, the Cango Caves are over 20 million years old are were frequently inhabited in the stone age. They're incredibly fascinating, with mind boggling rock formations, low passageways, and tunnels to crawl through. A landmark that's not for the faint hearted, visitors to South Africa shouldn't miss out on the opportunity to explore the Cango Caves.
Robben Island
A UNESCO world heritage centre, Robben Island has a sad and poignant history. It's a must visit for those who're interested in finding out all about the history of the apartheid movement and now stands as a symbol of human resilience and strength. Black people were kept against their will on Robben Island during the apartheid where it was used as a political prison, although not as visually beautiful as the other landmarks, it's a landmark with symbolic importance.
Blyde River Canyon
The impressive natural wonder which is the Blyde River Canyon is a nature reserve offering some of the most famous views of South Africa. The famous God's Window, carved out of red sandstone is one of the most remarkable geological features of South Africa making it a popular spot for tourists and one of the three biggest canyons in the world. At the Blyde River Canyon there's also amazing wildlife spotting opportunities with hippos, wildebeests, and crocodiles all residing there.
These are just some of the best landmarks that South Africa has to offer, with so many nature reserves, incredible wildlife spotting opportunities and all of the different ecosystems to explore, an adventure holiday to South Africa is a once in a lifetime holiday you'll be sure to remember. Happy adventuring!