Berlin is one of the most phenomenal cities in Europe, boasting a burgeoning cultural scene that other capitals simply can't match. This spellbinding metropolis is one of the most eclectic destinations for adventure-hungry wanderers, so hop on a low cost flight, pitch up at a homely hostel and prepare for a budget travel experience you will never forget.
Explore the city's arty side
This marvellous city boasts a flourishing arts scene and is a mecca for creative types. If you want to save money while soaking up culture, invest in the Berlin Pass which gives free entry to over 50 attractions – including the five museums on Museum Island, located north of the River Spree. The neoclassical buildings display an array of awe-inspiring art and sculpture from all over the globe.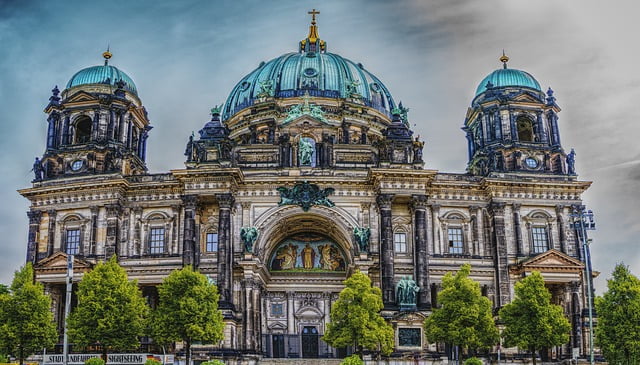 Head to the Altes Museum where you can inspect antiques from the ancient world, or check out the Neues Museum for a treasure trove of Egyptian relics, including the iconic bust of Queen Nefertiti. If you're seeking contemporary stimulus, stop by the East Side Gallery and marvel at the graffiti that adorns the longest open-air exhibition in the world – the 1,316 metre wall used to form the border between the East and West of the city but is now blank canvas for free speech and self-expression.
Sample local and international food
Those looking for traditional fare will find cheap beer and bratwurst on every corner but this beautiful municipality also brags an infinite variety of exciting – and cheap – international food. Middle Eastern cuisine is particularly delicious and Berlin is home to a large Turkish population, so you can devour aromatic kebabs, piquant meat salad and feather-light flatbread for a paltry sum.
If you want to sample the best budget burger in Berlin, head to the tumbledown outbuilding underneath the Schlesisches Tor U-Bahn and discover Burgermeister. This street food shack (a converted public toilet) might look makeshift but there is nothing amateur about the food. It has become one of the trendiest places to eat in the city and if you like a long leisurely meal look elsewhere because there is no seating, just a few upturned beer crates to take the weight off your feet.
Discover the underground bar scene
Berliners party hard and over the last couple of decades all manner of exciting night spots have mushroomed across the city. Unlike London or Paris, you won't have to spend a fortune on drinks and the vibe is casual, catering to everyone and anyone. East Berlin is home to an array of sensational underground bars that are concealed as regular buildings – most of these alternative night spots don't charge entry but may ask for a small donation towards maintenance costs.
Head to Kreuzberg and discover Madame Claude, one of Berlin's best kept secrets that prides itself on being a 'bar for common people'. Located on the site of a former brothel, this kooky 'upside down' club is one of the hippest establishments in town, where the furniture is stuck to the ceiling and you'll find seriously cool DJs hitting the decks seven nights a week.
Revisit a somber history
The German capital acknowledges its darkest days with an endless variety of museums and is adamant not to profit from the past. Most of the World War II exhibitions are free and the Holocaust Memorial and the Topography of Terror are among the most comprehensive displays you will ever find about the Nazi regime.
You can easily locate landmarks like Hitler's Bunker and the Nazi Headquarters without shelling out for a guided tour and there are plenty of grave reminders of human folly dotted around Berlin that will make their mark your memory forever. Journey to the public square in Bebelplatz and absorb one of Berlin's most poignant monuments – a glass plate in the pavement that gives a view of enough empty shelves to hold the 20,000 books that were burned across Germany in 1933.
Whatever your motivations for visiting Berlin, you are bound to find an endless variety of magnetisms to widen your horizons and inspire you to return again and again.