A boulevard located in the 8th arrondissement of Paris, Champs-Élysées that runs between the Place Charles de Gaulle and the Place de la Concorde. The neighbourhood used to be a popular place for intellectuals. Today, Champs-Élysées is a centre of theatres, cafes, cinemas and some popular stores. The neighbourhood is characterised by charming gardens and lovely fountains. Some of the most beautiful museums and shopping stores of Paris are located here. Let us see what all you can see in Champs-Élysées.
Grand Palais
A large museum and exhibition complex, Grand Palais was constructed in Beaux-Arts architecture style with glass-domed roof and is made up of stone, iron and light steel framing. It is a 100-year-old monument and boasts of impressive coloured mosaics work and beautifully designed sculpted statues.
Théâtre des Champs-Elysées
Built in the year 1913 in the Art DEco style, Théâtre des Champs-Elysées is a lovely place for an evening out.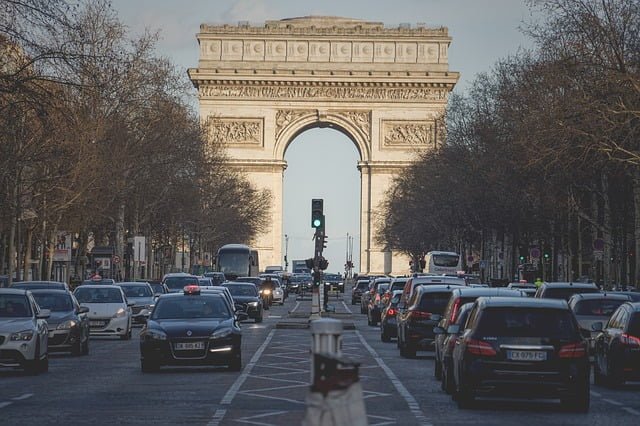 Arc de Triomphe
Arc de Triomphe is a French monument and was built between 1806 and 1836. It was designed to remember those who fought in the Napoleonic War. The names of the French troops have been carved on the inside and also at the top of the arch of the memorial.  The views of La Defense, Sacré-Coeur and Champs-Élysées from the top of this attraction are simply phenomenal.
Palais de Tokyo
Committed to modern and contemporary art, Palais de Tokyo is one of the largest centres for creation and contemporary art in Europe.  Palais de Tokyo is popular for its energy and liveliness and exhibits the charming works of young modern artists.
Petit Palais
Housing an excellent collection of paintings, sculptures and fine art objects, Petit Palais is one of the loveliest museums and boasts of striking architecture, lovely paintwork and inner garden.
The charming neighbourhood of Champs-Élysées boasts of other places to see and explore. These are Rue du Faubourg Saint-Honore, Jacquemart-Andre-museet, Citroen Champs-Elysees Showroom and Le Lido. There are also various high street shops and luxury labels. Indeed a lovely place to base your stay in Paris and France, Champs-Élysées is home to a wide range of hotels and serviced apartments. Very well connected to other parts, it is a good choice for both business and leisure travellers alike.