If you're finding your feet as an English teacher in Dubai then you'll no doubt be looking to experience the cuisine that this city has to offer at some point. Sampling the restaurants is part and parcel of the living and working abroad experience and food lovers in Dubai have a wealth of restaurants available to them.
In Dubai you're never far from a place to eat whether it's a fashionable first class dining establishment or a budget restaurant. Dubai is home to restaurants serving every type of cuisine imaginable and you won't have any difficulty finding an eatery to suit your taste. Asian, Italian, French, Japanese or Arabic food… these are just a few of the options available to those living in this cosmopolitan city. You can ask other English teachers about the best restaurants in Dubai or simply head out on your own to discover what may become your favourite restaurant.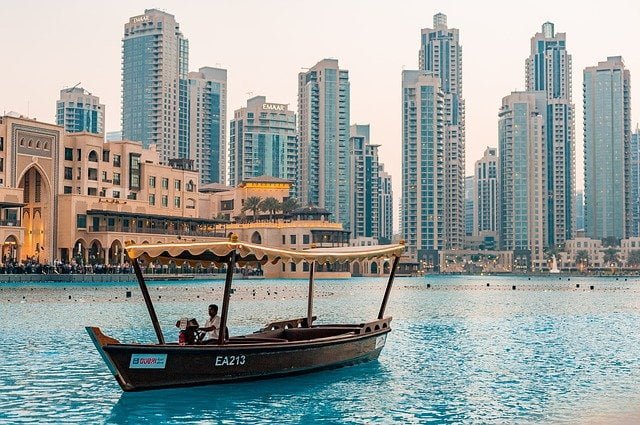 Seafood restaurant with stunning views
It's not hard to find a good seafood restaurant in Dubai, but if you're looking to splash out and sample some delicious European seafood dishes while enjoying terrific views then head to Pierchic. Located at the Al Qasr Hotel in Jumeirah, this restaurant offers outdoor dining with views of the Gulf and the amazing Burj Al Arab. If you're going with your loved one, it's a highly romantic dining experience, especially in the evenings, and the food alone is worth a visit either on your own or in a group. The prices are reasonable for a restaurant that has been named by Time Out magazine as Dubai's Best Seafood Restaurant.
Classy French dining establishment
There are plenty of French restaurants in Dubai, but one of the best and most famous has to be Margaux, located in Souk al Bahar. The restaurant décor is chic and the quality of the food means that booking in advance is necessary. Guests can choose to dine in the beautiful, wood panelled main dining room or in the terrace area to enjoy views of the Dubai Fountain. Classic French cuisine this good does come at a price but as an occasional treat this restaurant and the mouth-watering desserts are hard to beat.
Best budget restaurants in Dubai
Many people have said that Dubai is expensive even for budget restaurants, but if you know where to look there's no need to spend a fortune on a good restaurant meal. Budget restaurants such as the Calicut Paragon in Karama offer superb curries at extremely inexpensive prices. For unpretentious, inexpensive Indian dining that doesn't cut corners on quality try the Ravi restaurant in Satwa. If you're looking for lamb kebabs, crispy noodles, soup or a delicious chicken tikka masala at very reasonable prices then The Chalet on Jumeirah Beach Road will be ideal.
If you're looking for a heads up on where to eat in Dubai then consult other English teachers, especially those who have lived long-term in the city for a long time. Word of mouth recommendations from those in the know will help to ensure you obtain excellent food at reasonable prices.