Greece is a place where reality meets mythology – where an island's history often begins with the a tale of the Greek Gods. Extending throughout the Eastern Mediterranean, the Greek islands have naturally become idyllic holiday destinations. The combination of gentle surf and beautiful climates have created some of the most beautiful beaches in the world, attracting millions of sun-seekers every year.
So, grab yourself a good book and a towel, head to whichever archipelago you fancy, and discover what it feels like to be a god on Greece's best shores…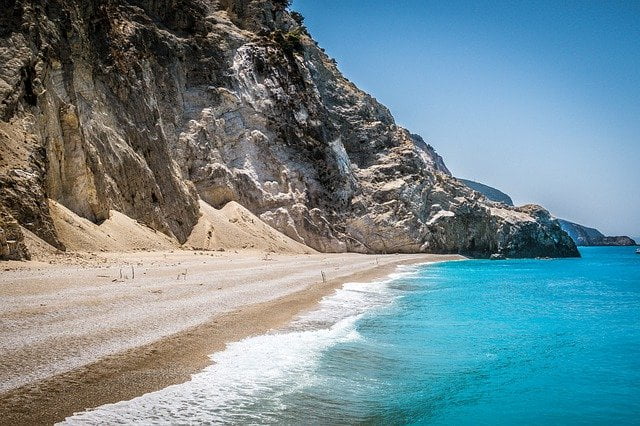 Navagio
Navagio, on the island of Zante, is sometimes known as 'Shipwreck Beach'. Navagio beach was a commonly used beach for smugglers, and the shipwreck that lies dramatically entombed in the sand was a ship used for that exact purpose.
It is easy to see why the beach was used for smuggling, with the high cliffs encircling it. Indeed, the long shallow beach and the secluded feel are exactly what make the beach so popular for tourists today. Within the space of just a few centuries, Navagio has gone from being a well-kept secret to being one of the more famous Greek island beaches, enticing thousands to grab a last minute holiday to Zante to see for themselves.
The Red Beach
The Red Beach, on the island of Santorini, gets its name from the iron-rich sand and rock that gives it its distinctive colour. In fact, the entire island of Santorini was formerly an area of volcanic activity. Santorini itself used to be a part of a much larger island, although a volcanic eruption in the second millennium BC caused the current island to form.
The Red Beach is therefore a geological, as well as a sun-worshipping, paradise. As the shore is west-facing, it is well known for its spectacular sunsets, where the red of the sand is matched by the red of the sun.
Palaiokastritsa
Palaiokastritsa is a bay located on the north west coast of Corfu. The bay is not only known for its white sand and its warm water, but also for its link with the Odyssey. According to local mythology, the rock that lies in the centre of the bay, just above the waterline is Odysseus's petrified ship.
Although it is not possible to know whether Odysseus ever did visit the island, it is easy to imagine, when shielding your eyes from the hot Greek sun, that the rock on the horizon could really be a ship.
The Greek islands are perfect places to blend history and modernity, and to combine cultural experiences with a relaxing beach holiday. There are plenty of affordable deals at the moment, as Greece is trying to boost its economy with the thriving tourist trade. With Greece only a short flight from most of Europe, North Africa and parts of Asia, you could book cheap holidays to Greece and be enjoying the divine shores within a matter of hours.