Dublin is the capital of Ireland, one of many capital cities in Europe. And that is about where the similarities end. Dublin is different, and the main reason it is difference is the people, not the place. Dublin seems to have a different attitude to life than you will find in any other major European seat of government.
For the Irish, rich or poor, there seems to be only one real purpose in life. And that purpose is "the craic" it seems to rule a large part of the psyche of Irish social life. The craic seems to be a catchall phrase for having a good time. And no one can deny that Dubliners know how to 'enjoy the craic'.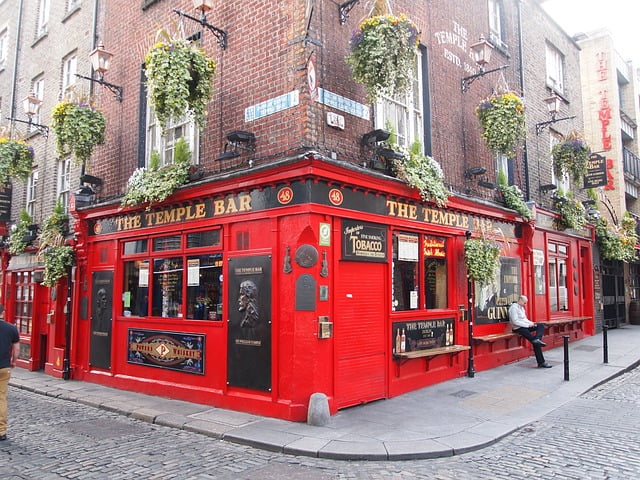 The Craic in all its forms
If you truly want to experience a full and rounded visit to Dublin. Then you really have to be prepared to get involved in the craic, in whatever form it happens to take.
And in this fair city the first thing you need to know is this is a small walkable city. But, having said that, perhaps the best way to get an overview of what Dublin is all about is to ride on the Red Bus. This is not exactly an unusual idea for city tours. But Dublin does seem to do it particularly well.
Hop on the Red Bus
Taking a hop-on hop-off tour of the city will let you find your footing very quickly. And allow you to see many sites you may well have missed exploring on your own. One of the first surprises for many is that Dublin has many wealthy and beautiful areas. Georgian houses are period elegant with their multi-coloured front doors and their splendid grandeur.
One of the stopping off points for the red bus is the renowned National Gallery of Ireland. Where many fine works of art are housed. Only discovered in the 1990s "The Taking Of Christ" Is one of the great Caravaggio's masterpieces is a must see for any art lover. You can then take a two-mile stroll along a stunning tree-lined Blvd through the magnificent Phoenix Park. This is a green space four times the size of London's Hyde Park.
Free Audio Guide and Free Guinness
Another way to explore the city is on foot. You can also take advantage of audio guides to Dublin which are free podcasts. The Georgian squares are splendid. With their house doors that seem to come in every single colour imaginable, except for black.
Of course you can't think of Dublin without thinking of Guinness.  Now whether you enjoy a pint of the 'black stuff' or not. The Guinness Storehouse is without a doubt the best place to view the entire city. On the seventh floor of the 250-year-old building you will find an unusual bar. Perhaps the most unusual thing about it is that it is shaped exactly like a Guinness glass. The bar is fully glass-walled giving unparalleled views of every corner of the city.
Yet even at this corporate PR establishment the craic' is alive and well behind the bar and in the crowd. It is somehow totally built into the Irish psyche to have a good time. To help us get into the mood the people do Guinness does offer a free glass for you to sample.
Literary Giants and Giant Drawing Pins
Conversely Dublin is extremely proud of its literary legacy. This was home to some of the English languages best writers. From Bram Stoker to George Bernard Shaw, Jonathan Swift and the notorious but highly respected Oscar Wilde. You can visit many sites associated with these Nobel prize-winning writers. For example, a small house on Synge Street was Shaw's birthplace.
A great cultural destination is the new 2000 seater Bord Gais Energy Theatre. This is a statement building aimed at showing the world that Dublin is a place of culture. You can book tickets for major concerts and theatre events in advance online or take your chances on arrival. Or you could simply make your way to the front of the building. And stand in the piazza where the company often stage free outdoor theatre events.
Another structure in which would perhaps come under the term 'a bit of a craic' It is the giant silver drawing pin on O'Connell Street. This is the Monument of Light which climbs a momentous 390 feet into the sky.
The Craic after Dark
After dark Manor Street is the place to head for, here you will find wonderfully different pubs. One such establishment is L. Mulligan Grocer, as the name suggests this is a very traditional Dublin pub. But in a room hidden at the back is a gastropub serving some of the best food you will find anywhere in the city. Perhaps the must try dish here is their pan-fried hake in a carrot purée, traditional yet modern like so much in Dublin.
By the docks you will find Brasserie at the Marker Hotel another great eatery. Here the speciality of the house may be considered to be black pudding croquettes. This fits in perfectly with their mission to be a "contemporary Irish." restaurant.
From culture and architecture, to art and a black and white pint as well as a 10 minutes drive into the perfect green Irish countryside. Dublin is a destination that everyone should try at least once in their lifetime. Even if it's only for the craic.
Getting there
Dublin is easily accessible from the UK with the ferries and frequent cheap flights. Once you're there public transport is fantastic but driving does allow you to get out into the spectacular Irish countryside.