Wisconsin Dells wears its name as "The Waterpark Capital of the World" with great pride. With three water parks that could safely be called "giant" — one of which is the largest in the country at 70 acres — and 20 other water playground properties in the area, they've certainly earned the name, and they aim to keep it. But water parks aren't the only water-based attraction the Wisconsin Dells area has to offer.
Fishing in and around Wisconsin Dells offers the seasoned and budding fisher-person an amazing opportunity to match wits and skill against walleye, smallmouth bass, bluegills, perch, musky, panfish and more, and all of it is done among the beautiful and under-appreciated Wisconsin landscape. Whether you choose to rough it in a tent or opt to indulge in one of Wisconsin Dells luxury resorts, if you like to fish, take a trip to Wisconsin Dells.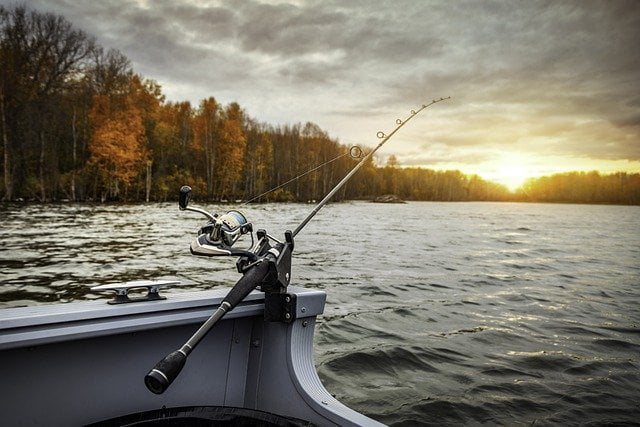 Here is a look at a handful of the great fish in the region, as well as some tips to help you hook and land them.
Walleye
The golden, glassy-eyed walleye is one of the most populous and popular fish to snag out of the mighty Wisconsin River. Spring and autumn are prime times, and nighttime or evening fishing is preferred as the fish favor dark and murky waters for hunting; the darkness tends to favor anglers over the fish. If you like your fishing at midday, however, don't despair — you can catch them at high noon, too. Walleye are active predators, and they go after a nice variety of prey from other fish to crustaceans.
Live bait rigs work best, and you'll have good luck with anything from leeches to minnows to night crawlers. If you do catch some walleye, they're delicious when prepared simply: fillet them and pan-fry them in cast iron in a bit of oil and butter. They can get pretty large, too. It's not uncommon for a walleye to weigh in at eight or 10 pounds, which makes it an attractive trophy fish. The largest one ever caught — so far — in the state of Wisconsin weighed in at just over 15 pounds.
Muskellunge
The muskellunge, known affectionately as the "musky," is one of the most famous gamefish in North America. According to Wisconsin's Department of Natural Resources, it's the most sought-after of all trophy fish in the state, and it all comes down to size. The musky gets big — as big as six feet long and over 60 pounds. They have heavy heads and jaws, and they're a sneaky, ambush-style predator, which makes catching a musky a feat worth bragging about.
Not content to eat just other fish, the musky has been known to attack and eat muskrats, ducks and other creatures that are decidedly un-fish-like. Mythologized as "the fish of 10,000 casts," the musky is elusive, and anglers have adapted very specific techniques to land them; so be sure to head to the areas they like best. Like most predators, muskies prefer areas with debris and weed beds, and they also favor drop-offs. They're most active in warm weather, so summer is your best bet to catch one of these freshwater giants.
Bluegill
The trick to fishing for bluegill is finding lakes and waterways without too many of them so that the bluegill get plenty to eat and therefore get plenty big. Big for a bluegill, of course, means one pound or more, and in Wisconsin, they reach two pounds with enough regularity to get people's pulses quickening. Head to more northern lakes and you'll find that low weed growth along with larger populations of northern pike and largemouth bass keep bluegill populations under control.
This creates an environment where overpopulation doesn't stunt the bluegills' growth. Ice-fishing for bluegill is ideal, but the fish are less active in the winter, so patience is even more necessary than usual. Choose live bait that's a little on the large side: thick leeches, multiple night crawlers, a juicy minnow — any of these will attract a larger fish. When you get one, clean it, dust it in flour and corn meal and fry it. They're amazing with a crisp, battered exterior.
The Wisconsin Dells area should be on any serious angler's list of vacation spots. Whether you fish for the sport, the eating or the stories, Wisconsin waterways will deliver plenty of each.
About the Author: Henry Lindle is a contributing writer and award-winning fisherperson.