If you're visiting the Grand Canyon and you're not sure what to do, don't worry. We've got you covered. Here are some of the top five places to go when you are on the Grand Canyon Trail.
The Watchtower 
The Watchtower is a favorite for Grand Canyon fans. Known for it's panoramic views of the Grand Canyon's most beautiful features, it is located on the South Rim's eastern end. Many people have drawn comparisons between the building's silhouette and the Anasazi watchtower. It measures 70 feet, an impressive stature for this mock Native American watchtower. The Hopi room here also showcases painting from artist Fred Kabotie.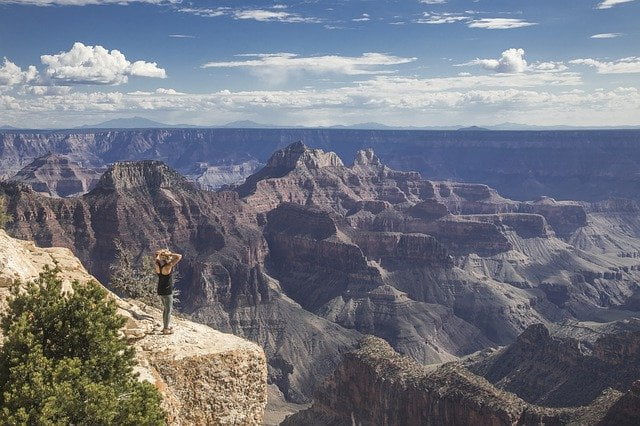 The North Rim 
The North Rim is definitely one of the less travelled areas of the Grand Canyon. This is only one of the reason's why it is a wonderful place to visit while traversing the Grand Canyon. It here where you can visit Bright Angel Point, Point Imperial, and Cape Royal. Each of these access points offer unique and relatively untravelled areas for the person looking to get back to nature, but without too many other tourists around.
Tuweep Overlook 
The Tuweep overlook is known for it's breathtaking view of the Colorado River below. This overlook is located 3,000 feet above the river. A relatively isolated and remote area, Tuweep's sheer drop down is a marvel for those willing to hike up to this spot, far out of the way of many of the Grand Canyon's popular trails.
Yuvapai Museum of Geology 
The Yuvapai museum of geology has provided Grand Canyon visitors many aides by which to learn more about the scientific aspects of the Grand Canyon. New exhibits are constantly showing here. At this museum you can also locate a large topographic map which details a large span of the Grand Canyon. Some of these exhibits are even interactive!
Grand Canyon Village 
Grand Canyon Village is a main starting point for everyone entering the park. It is here that most of the hiker's activities information booths are located, as well as places for food and refreshments. Here you will also find the park's best look out points which are not as remote as some of the other points mentioned in this article, but still worthwhile, nonetheless.