What's on your "Motorcycle Road Bucket List"? Most people will say the "Tail of the Dragon", if they haven't already tamed the beast. But did you know that a mere 65 miles away is historic Gatlinburg, TN, the heart of the Great Smoky Mountains, which boasts some gorgeous motor touring roads.
Not only are the Great Smoky Mountains the most visited vacation spot in the US, they also boast 800 square miles of scenic forests, which includes waterfalls, streams, historic settlements and fantastic wildlife. Visitors can camp, hike, go rafting, fishing and horseback riding along with viewing the scenery from a vehicle. I personally recommend riding a motorcycle along four of the most popular touring roads, which are the Roaring Fork Motor Nature Trail, Clingmans Dome, Newfound Gap and Cades Cove, for a relaxing, beautiful ride.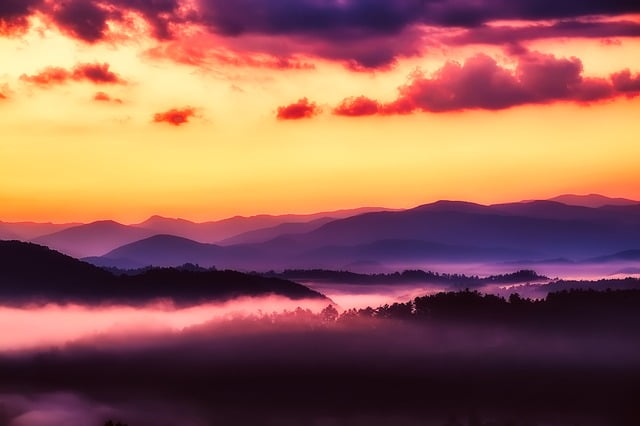 If you're headed to tame the Dragon, why not hit all all the great riding roads you can. From the Dragon, you can ride 22 miles northeast thru the Smoky's to the Cades Cove Loop Road for spectacular views, then cruise about another 25 miles to the great historic town of Gatlinburg. At the south edge of town you will find the Roaring Fork Motor Nature Trail which has many historical settlements to explore. After that follow the scenic, fun to ride, Newfound Gap Rd, which meanders southwest out of Gatlinburg for 15 miles where you'll hit Clingmans Dome Road, which leads you to the highest point in the Smoky's.
First on the route is Cades Cove, which is an 11 mile, one way loop throughout the valley, that has a campground if you'd like to stay overnight, plus a visitor's center. There are multiple nature trails if you'd like to venture off the beaten path to seek out more wildlife and natural scenery. This road is less hilly than others, has beautiful views of the valley and the mountains, but can be congested and slow moving, so be prepared to relax and enjoy the ride.
Roaring Fork, outside of Gatlinburg, is a 6 mile, one way loop, with several turnoffs, so you can stop and check out waterfalls, historic homesteads and hiking trails. From personal experience I know this road has some area's that are not well kept, so be prepared to ride single file for safety so you can avoid potholes and cracks in the road. Also, since you'll be riding in slow moving, heavy traffic, be very aware of what is coming up ahead of you, as there are some hilly sections along the motor trail. Let the cars in front of you get over that small hill or all the way to the bottom so you don't get stuck waiting, gripping your clutch and brakes on a steep hill.
Follow the Newfound Gap Road, also known as US-441 south out of Gatlinburg for about 15 miles to the Tennessee – North Carolina border to find the Appalachian Trail, where you can get off the bike to stretch your legs. Along this gently curving, beautiful well-maintained road you will be sheltered by tall old trees, ride alongside beautiful streams and if you're lucky you might see a bear cub. How do I know this? Because a soaking wet bear cub, who had been playing in the stream below, crossed my path (at a safe distance ahead of me) while I was slowly cruising along this road a few years ago.  When you get to the TN/NC border, take a right on Clingmans Dome Road and travel about 7 miles to the base of the summit, which you can walk a half mile trail to the observation tower for a spectacular view from the highest point in the Great Smoky Mountains National Park.
If you're looking to travel in this area and cruise some of these beautiful roads, make sure you check the National Park Service website before planning your trip to make sure all the roads are open, as many are seasonal or may be closed due to weather related conditions. Plus some are only open at specific times of the day for motor vehicles, so plan well. Other things to note when riding these motorcycle touring roads are that you may be stuck in slow moving traffic, as people tend to go at a snails pace to look for wildlife or at nature, but not to worry, most of the roads have turnoffs or parking area's so you can get off the bike to rest or take pictures. Be patient, courteous and most important…make sure to fill your gas tank and pack snacks/drinks before you set out, as you won't find gas stations along most of these scenic roadways. Plus you'll need to keep your eyes open and be alert for wildlife as well as unsafe road conditions. Make your trip memorable, go at your own pace, enjoy the peaceful feeling of nature and keep the shiny side up.