Originally a fishing village, Hurghada is now Egypt's favorite vacation spot for those seeking sun and surf in a stylish resort town setting. The crystal clear waters of the Red Sea with sandy beaches offer a variety of activities, while a great selection of accommodations have anything from all exclusive, family-friendly resorts to luxury hotels. Below are some of the most popular activities travelers enjoy during their trip to Hurghada.
Snorkeling in the Giftun Islands
Giftun Kebir and Giftun Sughayer are a short, 45 minutes boat ride away from Hurghada in the Red Sea. The National Park is a protected area and offers spectacular views of coral reefs and underwater sea life. Regardless of their experience levels, all snorkelers can find a magnificent selection of aquatic creatures from colorful fish and turtles to reef sharks and even dolphins. If you ever wondered what it was like to snorkel in an aquarium, this is the place where you can find out.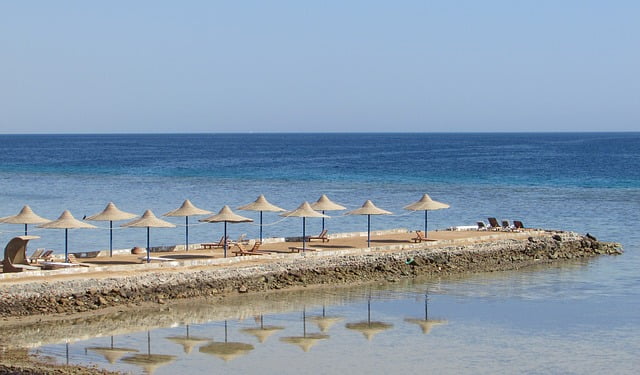 Diving around Shipwrecks
The Red Sea is one of the most historic water ways in human history, and it hides many of its secrets on the sea floor. If you are interested in diving expeditions, Hurghada is a great place to experience the thrill of underwater discovery. Two of the most favorite dives are El Mina and the Excalibur. El Mina is an Egyptian mine sweeper wrecked in 1969 and the Excalibur, a twin mast motor and sail vessel, sank in the mid-1990s.
Visit the Cafes on Hurghada Marina Boulevard
Whether you fancy an afternoon stroll or enjoy people watching, the cafes on Marina Boulevard will have everything from specialty coffees, refreshing drinks, and local delicacies. From an authentic Egyptian café to pubs and international cuisine, the Marina Boulevard has it all.
Beach Time
One of the major draws of Hurghada is the tranquility and relaxed atmosphere most vacationers are looking for. Spending time on the white sandy beaches with the occasional dip in the turquoise waters will help you forget all your troubles. Take a stroll along the shoreline or sit in the shadow of an umbrella with a good book. All you need to do is bring sunscreen and sunglasses and you are good to go!
Water Sports
In addition to swimming, snorkeling, and diving, you can also enjoy other exciting water sports on your Hurghada vacations. Waterskiing, parasailing, or windsurfing are all available options, and you can also rent Jet Skis or charter a yacht for a fabulous day on the water. For family fun, visit a nearby water park. Sinbad Aqua Park offers a day pass that includes access to all rides as well as food and drinks. Makadi Water World has all kinds of fun thrills such as a wave pool, five giant slides, and a rain fortress to keep the entire family entertained. Finally, Jungle Aqua Park has 14 different pools and 35 water slides. They also have a rafting river, heated pools, two large swimming pools, and a kids area with a large selection of games.