Summer is coming, and with it people are starting to think of their holidays and where are they going to travel. One of the perfect places to enjoy the views of nature, since its beaches and the interior of the island is full of green places, forests and fields waiting to be photographed. And since the island is mainly visited by people searching for the perfect party and for visiting its clubs, we can expect very few people visiting those green areas and villages of the interior.
A lot of people who visit the island choose to travel around the island by car in order to be able to reach all of the places worth visiting, not only the main beaches, but also the hidden coves in the island, with some of them having incredible views of the sea from inland, perfect for some quick scopes. Not only the sea areas, but also the interior of the island is full of tranquil villages, where we can find peace and a place to relax, as well as some very beautiful white houses that give the island its nickname (The White Island). Many artists that came to the island to visit (painters, photographers, writers) fell in love with it and stayed to live there.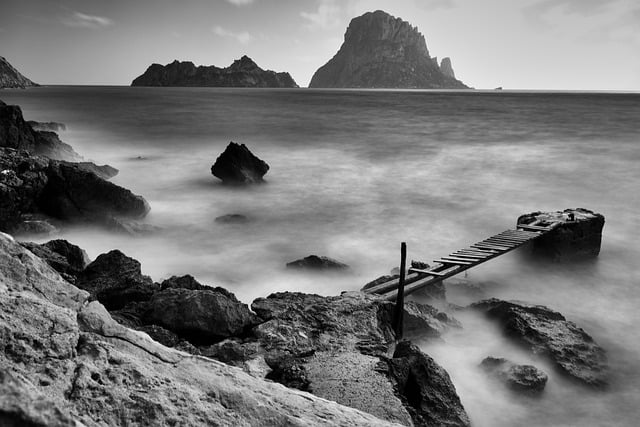 One of the perfect spots for photography fans is the Cala d'Hort (Cove of Hort) in which we'll find the rock of Es Vedrà, an impressive rock rising more than 300 meters above the sea, that alongside the sunset will give us the perfect picture of the ibizan afternoon. We can also find some good shots in the city of Ibiza, mainly in the walled city of Dalt Vila, a top of which we can enjoy some pretty good views of the city and the island. You can also visit the caves of Can Marça, a place with a lot of history (served as hideout for smugglers in the past) in which we can also take some photographs of the natural wonder.
And if you're looking for something different you can check out one of the many hippie marketplaces around the island, like the one in Las Dalias, one of the biggest hippie meeting point in Europe, and also a perfect place to take out our cameras and take some good pictures of the people and the excellent atmosphere.
Overall Ibiza is a great place to enjoy of our hobby of photographing, since there a lot of different places to visit and take pictures, all of them very different from one another.