More than just great foliage, Vermont features countless antique shops, sprawling dairy farms, charming villages and casual restaurants serving down-home favorites. The small town of Richmond, off Interstate 89 in the Green Mountain foothills, is a perfect example of a quintessential New England town and makes a wonderful addition to your tour of the Green Mountain State. Below are 5 activities sure to make your trip to Richmond memorable.
The Round Church
The Round Church, a National Historic Landmark built between 1812-1813, originally served as a meeting house for Protestant congregations. Now it is open to the public for tours throughout the summer and fall. The interesting sixteen-sided building also serves as a great backdrop for photos.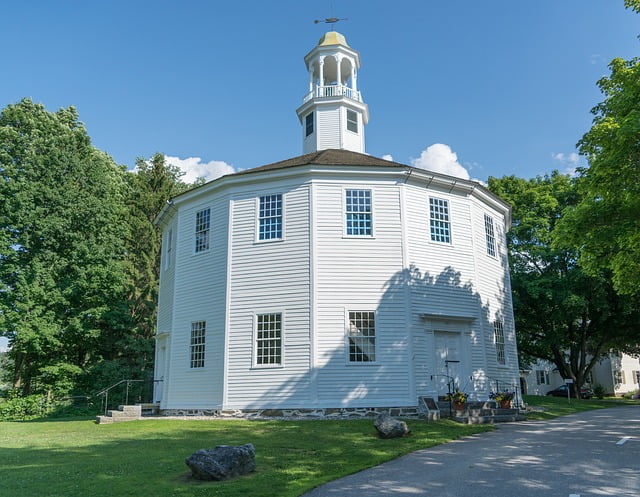 Bridge Street Cafe
For a no-fuss bite to eat head over to Bridge Street Cafe. The menu features family favorites like pizza and burgers but the highlight is the fries smothered in cheese and gravy [known in Canada as poutine]. Put your diet on hold and grab an order to share; they are sure to make your mouth water.
Isaac's Antiques
For those of you on the hunt for treasures of yesteryear a stop at Isaac's Antiques is in order. Everything from vintage jewelry to grandmother's china can be found in the quaint shop. Time stands still as you browse through the offerings to find the perfect souvenir to take home.
Richmond to Jonesville
Of course no trip to Vermont in autumn would be complete without some foliage pictures. Just wandering through town can provide some great views but for true shutterbugs bicycling along the Winooski River is the way to go. The route from Richmond to Jonesville provides stunning views of picturesque landscapes.
Richmond Victorian Inn
Once you are ready to call it a day, The Richmond Victorian Inn offers six guestrooms in an old Queen Anne style home. Each room has unique traditional decor with modern amenities. A large country breakfast is included the next morning so you will be fully charged to continue your Vermont adventure.