America is not known as the big country for nothing – everything is on a massive scale and this is certainly true in Nevada where major sights range from vast to immense. Gigantic tourist attractions include the Valley of Fire, the Hoover Dam, Red Rock Canyon and the Grand Canyon. A car is essential to make the most of the sights and hiring facilities in the area, such as Car Rental Las Vegas, will enable you to get the best out of the region.
Valley of Fire offers an unrivalled visitor experience in terms of prehistoric landscapes. The area is named for its fiery red sandstone which has twisted into remarkable shapes over the last one-hundred-and-fifty-million years. Huge striated stone formations populate this desert landscape, along with strange arches that have evolved over vast tracts of time. There are plenty of driving and hiking routes and if you want to explore thoroughly, you may like to think about camping overnight. Please be aware that campers need to book well in advance as there is limited capacity. There are lots of picnicking facilities available in the park and it is important to take enough food and drink with you as local catering is somewhat sparse to say the least. Fairly nearby, you can also drive out in a small loop to Red Rock Canyon to witness more stunning scenery and even do some rock-climbing on Aztec sandstone in specially designated areas.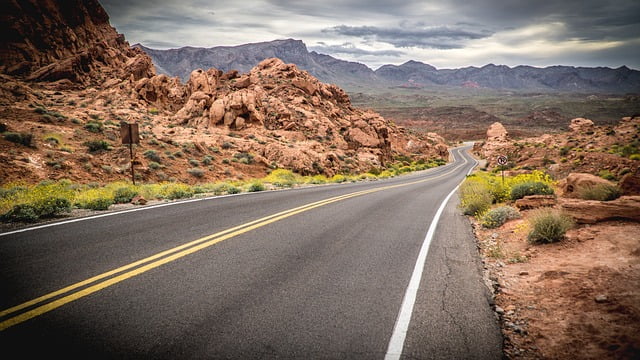 This region is a place of extremes so you'll want to be prepared for the searing temperatures. During the summer, expect temperatures of over one-hundred degrees Fahrenheit which can often reach up to one-hundred-and-twenty degrees. If this kind of blazing heat is not for you, consider making a trip in either the autumn or the spring when the heat is a little more visitor-friendly. Winter is worth considering too as temperatures still range from the thirties up to the seventies (although beware of freezing nights).
Leaving nature's handiwork aside for a little while, you can head to the Hoover Dam (originally called Boulder Dam) which is the famously enormous water dam between the states of Nevada and Arizona. To give you some idea of the scale of this phenomenal piece of concrete architecture, it measures over seven-hundred feet from top to bottom and it comprises more than three-million cubic yards of concrete and five-million barrels of concrete. Perhaps unsurprisingly, the whole dam weighs over six-and-a-half million tons which is pretty difficult to visualise until you're standing next to it in all its majesty. If you're planning to drive by, then it is wise to set off as early as you can to avoid the crowds. For those with a little time to spare, it is possible to take a tour of the dam to see its workings. Alternatively, make your way to the Hoover Dam Bridge and take a stroll on the pedestrian walkway to admire the dam from a different vantage point.
Once you leave the dam behind and cross into Arizona, it would be impossible to visit the desert without going to the Grand Canyon, without question one of the world's natural wonders. At almost three-hundred miles long, eighteen miles wide and six-thousand feet deep, this incredible gorge reveals the deepest secrets of the planet's history. What is most amazing of all perhaps, is that the canyon was largely created by the power of water, namely the Colorado River. Overwhelming in its great natural beauty, the giant fissure attracts over five million visitors every year.
You will want to leave yourself plenty of time to experience the Grand Canyon and depending on your available time and budget, there are a number of ways to explore the area. Helicopter flights are very popular as they provide aerial views of the whole area within a short space of time. Those with a great head for heights will want to head to the new Skywalk which is a glass-bottomed viewing bridge that loops out over the canyon to reveal an eight-hundred foot drop. For the truly daring, it is also possible to venture down into the bottom of the canyon on a somewhat precarious mule ride.