Berlin is a choice destination for many tourists, because of its historic significance and unique culture. No to mention, this city boasts some of Germany's best picturesque landmarks for tourists to take advantage of. 
The Berlin Wall
One of the most wall-known historic landmarks in Berlin is the Berlin Wall, which separated the eastern and western parts of the city during the Cold War. Originally used as a defense mechanism, the Berlin Wall eventually served as a divider that was armed with guards and barbed wire. In 1989, this border was opened and most of the Berlin Wall has since been demolished. However, some historic areas still remain, which are great photo opportunities for tourists.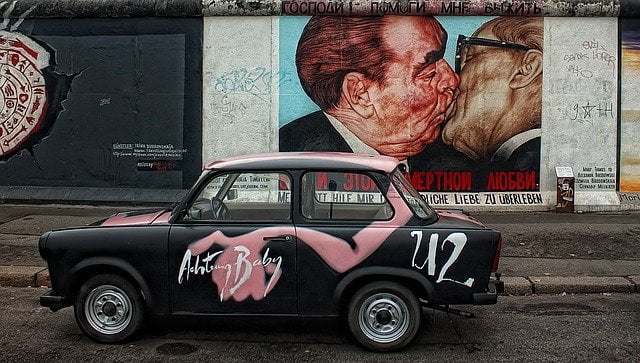 Brandenburg Gate
A symbol of Berlin reunification, the Brandenburg Gate is the only city entrance gate that remains as a portion of the original wall. History and grandeur make this attraction a perfect location for photographers and visitors.
Reichstag
Constructed with French war time reparation funds, Reichstag is located right next to the Berlin Wall and close to the Brandenburg Gate. Boasting a grand glass dome, a portion of this landmark is open to the public, which provides close-up opportunities.
Alexanderplatz
As one of the busiest city centers in Berlin, Alexanderplatz is home to one of the largest structures in Europe: the Fernsehturm. This TV tower features viewing from a height of 203m. This square also features two other historic monuments: The Weltzeitur (The World Clock) and the Fountain of International Friendship.
Holocaust Memorial
One of the most traumatic, historic pieces located in Berlin is the Holocaust Memorial. Here, concrete slabs with no names or dates cover the ruins of Hitler's buried bunker.