Langkawi has been becoming pretty popular these days. Wonderful beaches, great waves, and a home of various animals sanctuary. Claimed as the best destination in Malaysia, Langkawi is dubbed as the island of paradise. Getting in to Langkawi is quite easy and there are many ways to get there. Boats that take you to Langkawi are available from many places such as Kuala Kedah and Kuala Perlis. For the international traveller, a boat to and from Koh Lipe, Thailand is also available if you wish for a short stop between the neighbours.
Langkawi also hosts its own international airport at the northwest part of the island in Padang Masirat. From Kuala Lumpur alone, there are 192 flights to Langkawi every week operated by four different carriers. Going to Langkawi by air could be the best option, the short trip – about one hour – from Kuala Lumpur will bring you to paradise in an instance.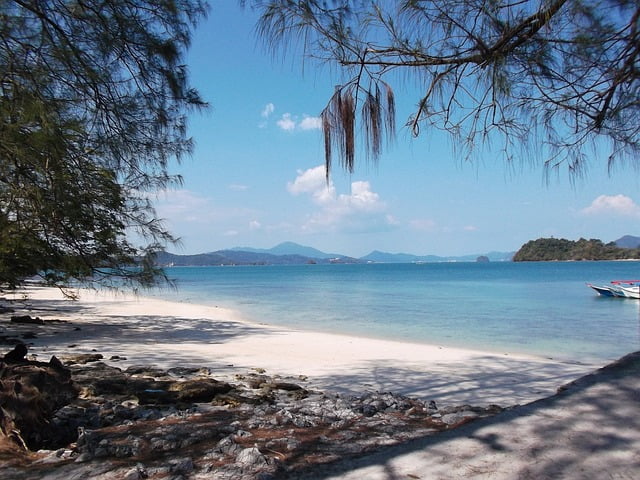 To make your holiday booking hassle-free, travel booking websites can be a good idea, especially with its 'Honest price' features that gives you direct price on the screen, with tax included and free booking fee. Flight tickets to Langkawi from Kuala Lumpur costs as low as RM 80 to RM 240 one way depends on the time and carrier. Flight to Langkawi from other cities in Malaysia cost about the same. Airasia operates the cheapest fares to Langkawi.
There are a lot to do and a lot more to see in Langkawi. One of the popular spot in the island is Beringin Beach. Langkawi's Beringin Beach sits calmly near the town of Kuah. The beach is known as the sanctuary for surfers as the wave is quite high. Coconut palm trees are lining all the way through the coastlines, this beach is ideal for sunbathing, and a walk in the afternoon.
Another place to see in Langkawi is Langkawi Telaga Tujuh Waterfalls, known as the seven wells, the waterfall has become the most amazing natural beauty in Langkawi. The name comes from the fact that there is a series of seven connected natural pool filled with the water from seven separate waterfalls.
For the architecture enthusiast, Langkawi Sky Bridge is one must to try. The bridge is a curved pedestrian bridge spans over 125 meter, and about 100 meter high from the ground. The bridge is located above the Mat Cinchang Mountain, to get here you have to take the Langkawi Cable Car by paying out RM 30 for adults and RM 20 for children.
Whilst for you who is seeking for a closer look into the world's sea creatures, Langkawi offers the Underwater World. Located in the south of Cenang beach, this water world is one of the largest marine and fresh water aquaria in Southeast Asia. It was first opened on 26 August 1995, and it has become one of the must visit tourist destinations since.  This water world features a diverse marine species from harbour seal, to rockhopper penguins to sharks. The water world can be a great place for your kids to see, touch, and learn about big fishes and other sea creatures in a fun and wonderful way.