While a lot of the Greek Islands do have some shared features and culture, the wide variety available ensure a little bit of something for everyone. And a unique experience to be had no matter which you choose.
Having visited a number of the islands, I want to share my personal favorites. Without further ado…
The Greek Islands
5. RHODES where Medieval wonders await 
Located near the coast of Turkey and the largest of the Dodecanese Islands, Rhodes Greece is the ideal place for history buffs featuring a medieval Old Town, declared a World Heritage Site, that is consistently one of the most popular tourist destinations in Europe.
Wander around the maze of ancient cobble streets. And try to relive the days of the Byzantine Empire.
Venture further south on the island to the photograph-inspiring town of Lindos. With its white cube houses trickling out from the hillside down into a beautiful turquoise bay.
Here make sure to preserve energy for the trek up to the extremely well-preserved Acropolis. With its interesting mix of Byzantine and Doric architecture.
Also, the Temple of Athena, worshipped in Lindos as early as 10th century BC, is also worth a visit.
Aside from the interesting historical sites, Rhodes also boasts many popular beaches and charming villages with a mix of Greek and Turkish influences.
The Main Beach is a sandy beach with shallow waters. That is ideal for families with kids. If you go a bit more north, you can find Pallas beach with great big rocks you can sunbathe on.
There are loads of villages on the island, but my favorite is Theologos Village, located about 22km south of Rhodes town.
The locals are simply lovely and truly preserve a simple, lighthearted way of life in their village filled with traditional whitewashed houses. And beautiful white chapels.
4. MILOS the island of colors 
Milos is the 5th largest island in the Cyclades archipelago. Located in the southwest tip. A largely undiscovered island with the most intruiging coastline I have ever seen.
As a volcanic island with stunningly colorful, lunar rock formations paired with white sand beaches. It is also known as the Island of Colors.
The island is outstanding for its beaches. Of which there are 70 in total, more than any other island in the Cyclades.
Many of the beaches are hidden so arrange plenty of time for exploring the island to discover these hidden treasures.
There is nothing more exciting than venturing out with no goal in mind. And stumbling upon the most magnificent sand and turquoise waters you've ever seen.
Oh, and the best part? You get to have it all to yourself. The island is nearly deserted during summer ensuring plenty of private time!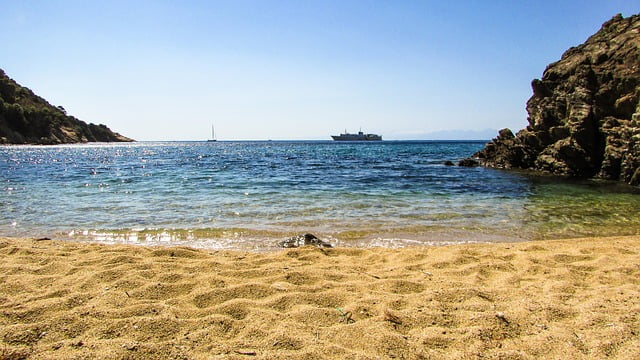 Also known as the Island of Lovers, Milos is the discovery site of the infamous statue Venus de Milo, the ancient Greek Goddess of Love and Beauty. Young (and not so young) lovers flock here year round to take in the classically beautiful scenery. That was the inspiration for this artwork.
3. KOS  everything you could ever ask for
Also close to the Turkish coastline, Kos is a standout island to me because it really offers a little bit of everything on one big island.
There are busy, popular beaches and secluded coves, and super interesting historical sites.
If you are a fan of white sand beaches and crystal clear waters, then Paradise Beach is for you.
Located just 7km from Kefalos Village, it is very organized with sunbeds and umbrellas, a variety of water sports,  and restaurants serving up fresh fish and delicious Greek cuisine. With a place like this, it feels like you could spend your whole vacation just on Kos island.
Alternatively, if you are seeking to get a little bit of Turkish and Greek water and island time for a nice 8 day, 7 night cruise starting from Bodrum, Turkey and venturing through Rhodes, Kos and the beautiful Symi and Nisyros Islands. Afterwards, you get the exclusive opportunity to sample a variety of small villages. And hidden coves along the Turkish coastline.
Kos is also famed for being the birthplace of Hippocrates, the father of medicine. In between swimming and sunbathing, be sure to visit Asklepieion, an ancient healing temple where people sought out the healing powers of the sacred god Asclepius. It's a great opportunity to learn about ancient Greek myths. And take in panoramic views of the city.
2. MYKONOS  party all night long, baby
Mykonos is Greece's Ibiza minus the attitude –if you are the life of the party, this is the Greek island for you.
Handsdown the most cosmopolitan of all the Greek islands, the nonstop party vibe here is contagious. And you can feel it in the air the second you step on the island.
Beaches such as Paradise and Super Paradise welcome crowds of people with sandside bars blaring music. Check out Tropicana Beach bar. And Paradise Club for some of the best parties on the island!
For a fun day trip rent a scooter and ride over to the Armenistis Lighthouse. The panoramic view from atop is breathtaking!
Paraga Beach is one of the best places to get your tan on and rest up for another night of dancing. If you're up for more activity, try kitesurfing in Korfos Bay.
Looks like excellent fun. Catch an epic sunset around Little Venice. A beautiful stretch of seaside restaurants and shops perfect for an early evening dinner and stroll.
If you are worried that the party atmosphere means you will miss out on the classic splendor of Greek islands, don't be mistaken – Mykanos hasn't lost its identity yet!
Thanks to strict building regulations, mass tourism has yet to affect the beauty of the island which is full of picturesque Greek houses. And a maze of narrow streets full of traditional Cycladic architecture and whitewashed lanes. Loads of photo ops out there!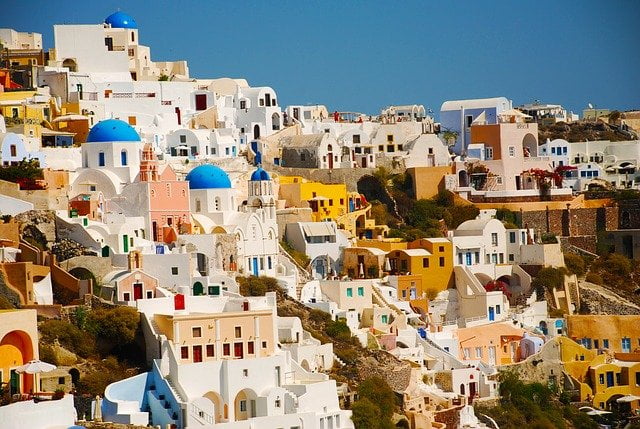 1. SANTORINI  tied up in adventure and romance 
If you only have time for one Greek island in your trip, make it Santorini. It is the perfect blend of ingredients that make a Greek island special with an extra splash of romance thrown in for good measure. In order to soak up all you can of the amazing views this island has to offer, definitely reserve one day for the Caldera Trek from Fira to Oia in the north. It's about 13km in length.
And the trail is easy to moderate, some incline, but nothing too daunting. And you get all of the best lookout points the island has to offer.
Greek Islands Conclusion
Once you hit the end of the trail in Oia, head south down the stairs and wrap around to the left to go to Amoudi Bay.
You will pass a couple restaurants and then climb over the rocks and keep going until you reach the bay area. A nice little getaway spot without too many people. There is a great spot for cliff jumping here.
Albeit, a bit scary, I definitely recommend you take the jump. It's worth it!
Head back up to the top a bit before sunset so you can scout out the perfect spot to watch the most epically romantic sunset of your life. Note: it will get crowded!
While arguably not the best beaches all around, Santorini's beaches are undoubtedly the most memorable and unique of any Greek island.
They are made of volcanic rock and mixed with pebbles that give them a red or black color. Take a bus down to Thira's Red Beach in the morning to watch the sun rise on the red cliffs. It's usually pretty empty early morning and you can get some great photos.
You will need to take the bus back halfway and then switch to another bus to head to the Perissa, the black beach. Stop in at Yazz Beach Bar and sample some Crazy Donkey beer, Santorini's local brew, with a plate of cheeses and meats, and then relax on their sunbeds for a perfect beach day…