Hundreds of fans of photography flock to the US every year. America is one of the most diverse countries in the world with such a wide range of landscapes, communities, architectures and attractions to visit and to capture on film. A question people often ask when traveling to San Francisco, once they've organized what to visit, travel insurance, valid ESTA registration, flights and accommodation, is where are the best places to take pictures in San Francisco? As there are so many places to see and things to do, we've put together a list of the top must-see areas for photographers.
Iconic Photography in San Francisco
San Francisco is one of the most photographed cities in the world being home, to the emblematic Golden Gate Bridge. This rusty orange-colored metal marvel stretches 8,981 feet across the Golden Gate Strait offering amazing shots for photography buffs from various locations around San Francisco.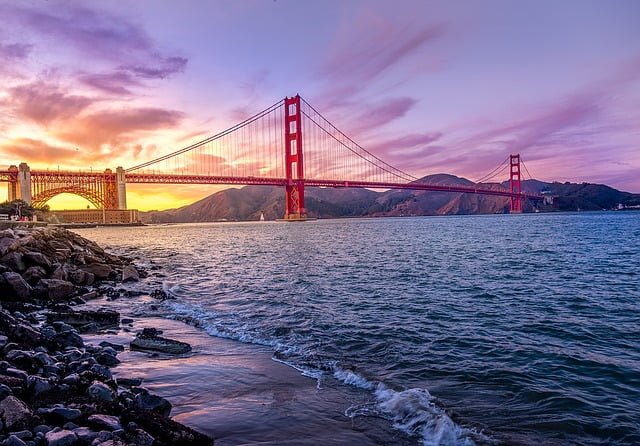 Another rather more infamous icon in San Francisco is Alcatraz Prison; a place that has housed some of America's most well known criminals. It is sure to provide some incredible if not hauntingly good photos, especially at dusk.
Another emblematic scene to photograph in San Fran is the historic cable cars which take people through the city and offer an insight into what life in this vibrant metropolis was like over 100 years ago.
Snapping iconic pics of the City by the Bay wouldn't be complete without a few photos of Lombard Street also known as the most crooked street in the world or of any of the other hills and steep roads which cover the city such as Nob Hill, Twin Peaks or Mount Davidson.
Nature Photography in San Francisco
San Francisco is a fantastic site for nature photography. Visitors can take their cameras out and about in any of the several city parks including Golden Gate Park and Mission Dolores Park for beautiful panoramas of the great outdoors.
In addition to the picturesque parks, San Francisco offers various beaches where taking photos is a favourite for many travelers and locals alike. The views are spectacular from Ocean Beach and Baker Beach especially.
And to add to the natural beauty that San Francisco offers, even in the most urban regions, great photo opportunities can be found where wildlife abounds such as the famous sea lions residing at Pier 39.  
Architectural Photography in San Francisco
Budding photographers can also find great shots in the well-developed financial district in San Francisco, where modern architecture thrives and provides a unique city skyline to photograph. The reflective surfaces of many of the bank and office buildings in the area make for excellent effects too! 
Another San Francisco architectural must-see is the row of Victorian and Edwardian-style houses also known as the 'Painted Ladies' near Alamo Square. From this residential neighborhood onlookers and photographers get a fantastic view of the houses descending the hill and the city skyline in the background. Often featured on postcards, this area is hugely popular with travelers and their selfie sticks.  
Other photo opps not to be missed in San Francisco include City Hall with its decorative interior, Haight Ashbury and Mission District, two of the best neighborhoods in Frisco to photograph for their cultural and historical importance, variety of street art and their hipster vibes coming from their hippie past, Chinatown in all its colorful splendor and of course the extremely popular tourist attraction: Fisherman's Wharf.
They say a picture is worth a thousand words… Imagine the stories that you could tell from your San Francisco photography adventure! Just don't forget the essentials: tickets, US ESTA visa, travel insurance and of course your trusty camera!