Pizza, the Sistine Chapel, the historical and magical city of Venice, the canals, and the museums and cathedrals, all what you have to look forward to on your Italian dream vacation.  Italy truly is rich with adventures and history just waiting to be explored.  One such location has become famous for it's works of art, it's incredible buildings and churches, it's wine regions, and for the delectable, and delicious fares that come from this mouthwatering area.
Tuscany boasts famous locations such as Florence, Pisa,  Lucca, Siena, Cortona, San Gimignano, Artimino and many more.  Most travelers have at least considered the idea of a dream vacation in the glorious country of Italy.  Truth be told, it is a place that could be visited over and over again, and new locations, flavors, art, and history could be discovered many times over.  With so much to discover, Tuscany is indeed an amazing place to consider an Italian Bike Tour.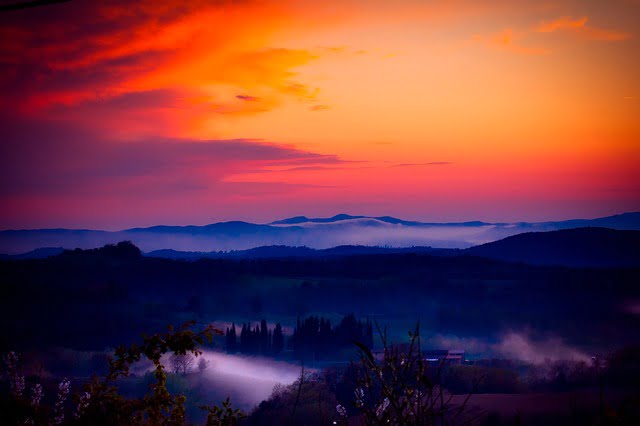 Florence is one such magical city that Tuscany has to offer that just can't be passed up.   Ancient cobblestone streets, endless rows of mythical shops, renaissance landmarks, and delicious restaurants and gelato locations should be reason enough.  It is just not fair how many countless landmarks this little city is hoarding.  The Duomo, Uffizi, Ponte Vecchio, Pitti Palace, and many, many more!  No Italian bike tour would be complete without the exploration of this stunning and historical city so chock-full of history and art that it will boggle the mind.
Just when your jaw had dropped countless times from all the beauty that Florence had to offer you should be headed over to Siena.  Also boasting a marbled Duomo, this Tuscan town will leap you through time, as you bask at the rolling hillsides, and take in the fresh Tuscany air.  The Grand Cathedral dating back to the 1200's has ancient marbled floors and many priceless and treasured artworks.  You can also not miss the UNESCO World Heritage Site: The Piazza del Campo, site of the famous Palio horse races that take place in July and August. Walk around, people watch, and take in all the amazingness that this town has to offer before heading the next breathtaking location on your list.
Roll on over to San Gimignano, "the city of beautiful towers," once boasting 72 amazing towers, with an impressive 12 still remaining. Walking through time never felt so dreamlike.  Your neck just may get sore staring up at the endless beauty that towers throughout this city.  Stay the night to get a different view of the town and to enjoy some of the nightlife and delicious restaurants and gelateries that this gorgeous ancient town has to offer.
Do not forget to let your Italian Bike Tour lead you to the town of Artimino, the perfect location to end your trip, calm and relaxing and every bit as beautiful as the rest of Tuscany's amazing landscapes and historical locations.  Spas, plush hotels, delicious cuisines, and the views of this city will be worth the wait.  Check out an Italian Bike Tour and discover the beautiful cities that Tuscany has to offer, a pleasure for all the senses.