Prague city breaks are  a history lover's dream. From Prague Castle to the iconic Wenceslas Square, it is one of the most beautiful cities in Europe, ideal for couples who want to get away from it all. It's the perfect place to take a walk and get to know the landscape – and most of all, take in the quirky architecture.
Sculpture Walks 
If you take a stroll down the David Cerny Sculpture Walk in Prague, you will find a variety of interesting statues by the artist and sculptor of the same name. The unusual 'London Booster Bus' at Czech House features a huge London bus, doing a press up! The statue was erected in 1992 on time for the summer Olympics. Cerny is also responsible for 'Tower Babies,' a group of stone children climbing up the Zizkov Television Tower which was built by architect Vaclav Aulicky. Along with Cernys strange and wonderful work an unusual sculpture shows two men urinating into a basin the shape of the Czech Republic. You can even send a text message to the fountain and the men will write the message into the water!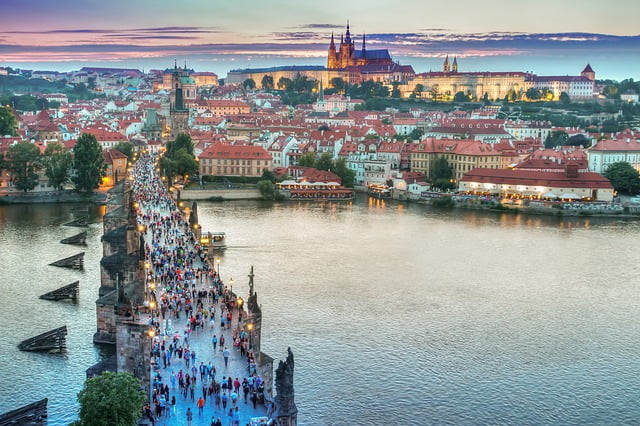 Weird & Wonderful Kafka
Czech sculptor Jaroslav Róna is the talent behind many statues dedicated to Franz Kafka dotted in and around Prague, none more weird and wonderful than 'Memorial to Franz Kafka,' a large, headless and handless man who is carrying a small man on his shoulders. The small man is supposed to be a representation of Kafka. This image of a man carrying another man on his shoulders, walking through the streets of Prague, appears in Kafka's book 'Description of a Struggle.'
Memorials of War
Whilst on your Prague city break, take a hike up Petrin Hill and see the 'Monument to the Victims of Communism' by sculptor Olbram Zoubek. The statue depicts seven figures, which appear to be walking down some stairs. The further up the stairs they go, the more degraded their bodies are. The statue represents the fall of communism, which was overturned in 2002.
Prague is also home to a number of Soviet statues. Kurt Gebauer's bronze statue 'Pond' was built in 1989. Located in Stodulky region, the statue is that of a young, naked woman standing in an alert pose. During the 'Normalization period' free experimentation of art was no longer tolerated and as a result, many expressive statues can be found all over Prague from this era.
After a day of sightseeing, wander along the Vltava River by night, enjoy a cold pint of pivo whilst watching the world go by. History lovers should also consider taking a trip to the Kepler Museum, celebrating Czech astronomy.