Once upon a time Seville was the capital of the mighty Moorish Empire. Now the city is a cosmopolitan but very Spanish Unesco World Heritage-listed destination. As it is a city, and not near the coast, not many people opt for a two week holiday here. But it has become a highly desirable weekend getaway.
There are multiple 'no-frills' and scheduled airlines servicing the city making it easily accessible. My wife and I selected a weekend break package to Seville with Ice Lolly as it was a last minute decision and we wanted everything pre-arranged. San Pablo airport is only 11km from the city centre.
Pretty, Pretty, Pretty
As we enter the main city area from the airport the first impression is "pretty". This is a very pretty city; hundreds of orange trees line ancient cobbled streets.  Classic wrought iron balconies cling to seemingly ancient houses and apartments. Giving the impression of New Orleans meets the 16th century. This is a city with far above its fair share of stunning hidden side streets and wonderful old buildings.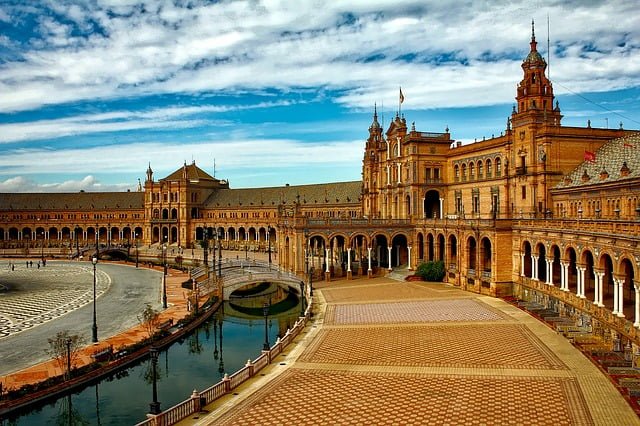 Our accommodation is the Petit Palace Santa Cruz Hotel. Which on arrival we see is blessed with those wrought iron balconies we have already fallen in love with. Our room overlooks the courtyard area which is very pleasant indeed. The staff are unusually friendly and welcoming and our entire stay was faultless in every way.
Carmen and Cigars
But we are not here to see hotel rooms; there is so much to see and so little time. We hit the streets within 20 minutes of checking in. And we discover we have chosen a great location for our accommodation. We are right in the middle of everything we would like to see, Santa Cruz is the 'tourist area' of Seville. Our first destination is Calle Fernando and the stunning Baroque Fábrica de Tabacos. Which was the setting and inspiration for Bizet's opera Carmen. This is a hospital that became a prison and then the famous cigar factory.  We took the tour which was far more interesting than my wife expected as this is an operational old factory which reeks of history.
Jardines de San Telmo and Jamón legs
Next we take a late afternoon stroll through the beautiful 300 year old Jardines de San Telmo. These gardens are the grounds of the attractive, but somewhat Lego-like, Palace of San Telmo, the seat of government in Andalucia. Evening is here and our stomachs are feeling some sort of eating jet-lag and its time to find some seriously Spanish cuisine.
We had already picked out El Rinconcillo from the internet; it is the oldest of 4000! Tapas bars in the city. Opened in 1670 this is the real deal, this is the definition of a Spanish tapas bar. Jamón legs hang from the ceiling and red wine is flowing everywhere we look.  We opted for basic fried shrimp, which tasted anything but basic. We also partook in sumptuous duck breast with potatoes and vegetables, heaven on a plate. A few glasses of wine and we knew we had had a long day, time to get some rest.
Seville Cathedral
Our second and final day in Seville begins with a hearty breakfast at the hotel then straight to our main destination for the day. Seville Cathedral's construction began in 1401. Although there was a far older Moorish mezquita on the site before the Spanish destroyed it. The 'new' Church of Santa Maria de la Sede was opened to worshipers in 1507, an incredible 106 years later. It is the third largest place of worship in the whole of Europe. And was only fully completed after three hundred years of toil by genuine artisans and craftsmen.
When we entered the massive interior of the building it was impossible not to be awestruck at the interiors magnificence. The altar is huge, truly huge; in fact it is, according to my wife's guidebook, the largest in the world.  The superlatives are quickly used up once you start to wonder around this colossal building. There are no less than 75 stunning stained glass windows. As well as a wealth of wrought iron grills, statues, intricate marble floors, and so much more.
Window Shopping and a Tapeo Crawl
Having worn down the soles of our shoes wandering the cathedral. And the attached and equally impressive Giralda Tower 'we' decided to take in some shopping. In Seville shopping means the streets surrounding Sierpes, the cities historic shopping area. This is a little odd as well known international chains sit side-by-side with traditional sellers of shawls, fans and flamenco-style dresses. One shop worth visiting is Guarnicioneria Lopez which caters to the local obsession for all things horses.
Our last evening is spent wandering aimlessly, well not aimlessly, it's called a "tapeo" This is the Seville version of a pub-crawl, the big difference being you move from one tapas bar to another. We really mixed with the locals as we, and they, indulged in an incredible array of tapas and fine wines and local beers. A perfect way to end a perfect weekend in a city we already intend to return to.