Walking the streets of an urban city rich with culture and art is entertaining in its own right. Though, the sight of snow-capped mountains and the shores of the Pacific Northwest will always take my breath away and inspires the inner travel photographer in me. When you are in Washington stay up and go out, be sleepless in Seattle.
I recommend you take the underground tour, since it is what made me fall in love with this city. Wear comfortable shoes and get ready to walk above and underground to get the inside story of Seattle's history. There are plenty great restaurants, bars and coffee shops around every corner in this large city so keep your eyes open on the tour. This is because the Pacific Northwest loves a nice beer selection and does not function without the most essential rainy day delight, a hot cup of coffee!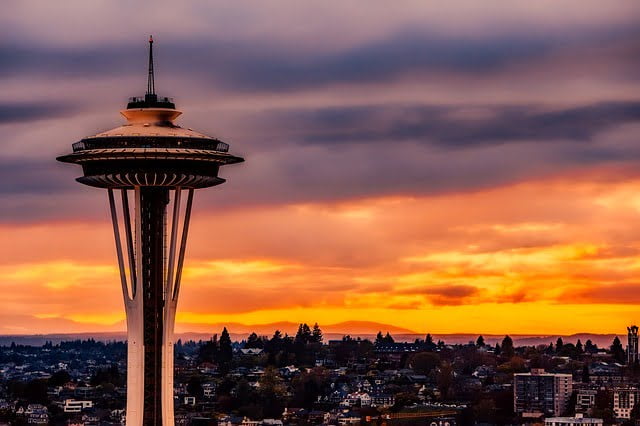 A trip to Seattle is not complete without a stop at the world famous Pike Street Market, where locals buy the daily catch and vendors sell handmade art and jewelry. The original Starbuck's cafe can also be found on this market street, along with gyros, baklava and more!
Be sure to hop on the tram and take a ride to the world famous Space Needle and take the lift to the top. The panoramic view of the water with the Olympic Mountains and Mt. Rainer in the distance is absolutely spectacular and provides for wonderful photo opportunities! If you are hungry, the rotating restaurant atop the Space Needle is a one of a kind dining experience. When you are finished, check out the surrounding area where you will find the stunning glass gardens and the unusually shaped EMP dedicated to sci-fi, music and pop culture.
There are also many options to explore the art galleries and museums that Seattle has to offer. Seattle's Art Museum or just SAM is a great place to start. I recommend you check Seattle's festival listings and add a unique and entertaining experience onto your trip. The city loves to celebrate with music and food. If you like a enjoy a good video game, I recommend you visit my favorite downtown spot, Gameworks Arcade.
Perhaps you are like me and enjoy the great outdoors. There are many places to ski, hike, or kayak that you will be delighted with the wide range of options this destination can offer. Depending on the season, there are also options to go white water rafting, which I highly recommend if you are traveling in early summer. Or all year round you can relax on a ferry ride over to Bainbridge Island and enjoy the lush green scenery of Puget Sound for the day. The relaxing ride on the water is a great way to spend a day at peace. Your options are always open when you are visiting Seattle.
Get out and enjoy the night scene, when you are in Seattle!