While Las Vegas, Nevada has become something of a Mecca for gaming enthusiasts and those who enjoy world class entertainment, the one thing that it lacks is the beauty and relaxing vibe of a beach. If you want to combine the fun and excitement of Vegas with the opportunity to kick back and enjoy the beauty of the beach and ocean, one place you should head to is Atlantic City. This fabulous East Coast resort is a destination where there is something for the whole family – a place filled with character, unique charm, and a chilled out atmosphere.
You will find some beautiful yet cheap hotels in Atlantic City, including those around the Boardwalk area. This means that you will be able to enjoy easy access to the excitement of the casinos and the attractions that the area has become so well known for while also being able to reach and even see the beach and ocean with ease. The destination's close proximity to New York City means that it is the perfect place to come and stay in for a few days if you are heading to New York.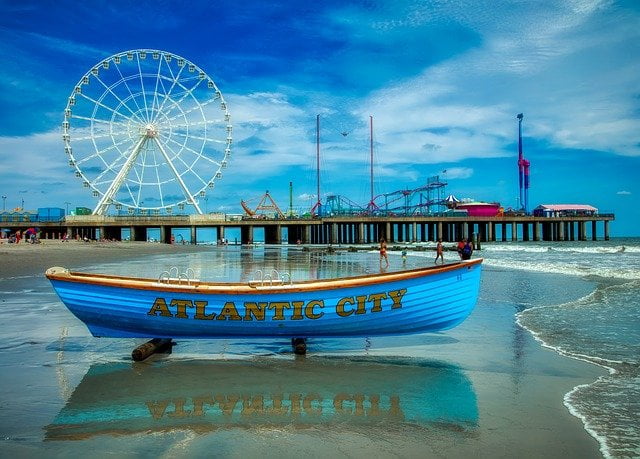 Atlantic City is a great destination for all ages, as there is something for everyone to look forward to here. From around the clock gaming to world class entertainment and shows, you can enjoy as full an itinerary as you like when you head to this destination.
Why Atlantic City is a great place to visit
There are many reasons why Atlantic City is such a great place to visit and is loved by people from all walks of life. The excitement and activities that you can enjoy when you visit this destination include:
Casinos
Casinos: You will find a wide choice of casinos and casino resorts when you come to Atlantic City, making it perfect for those who enjoy table games, slot machines, fun, thrills, excitement, and the chance to win big money. You can find some of the big name resorts here including Caesar's Palace, Bally's, The Golden Nugget and the Tropicana amongst others.
The beach and boardwalk
The beach and boardwalk: The boardwalk is a vibrant place where you will find many of the big name casinos as well as entertainment and a vibrant atmosphere. Simply strolling along the boardwalk on a sunny day is a great way to pass time and enjoy taking in your surroundings. Of course, the beach area is a very popular area in Atlantic City, and is ideal for those who want to enjoy relaxing or having fun on the beach, enjoying ocean views, and taking in the sea breeze.
Shows and entertainment
Shows and entertainment: You will find plenty to amuse people of all ages when it comes to shows and entertainment in Atlantic City, which means that you can enjoy entertainment to suit everyone. From exciting tribute shows and magic acts to world class concerts, you will find a host of entertainment within easy reach when you're in Atlantic City.
Shopping
Shopping: There are many shopping facilities available in Atlantic City, and this includes the various facilities within the casino resorts themselves. This is great for those who enjoy their retail therapy, as you can look forward to access to all sorts of goods and wares. There are also malls that you will be able to travel to.
A range of attractions
A range of attractions: In addition to all this, Atlantic City is also home to a variety of attractions designed to suit different tastes and preferences. This includes attractions such as the Absecon Lighthouse and Ripley's Believe It Or Not. Other attractions that can be enjoyed by people of all ages include the Atlantic City Aquarium and the Steel Pier Amusement Park amongst others.
Nightlife
Nightlife: For the adults who are heading to Atlantic City the fun keeps on going when the sun goes down. You will find a vibrant nightlife scene going on in this destination, so if you have the stamina to stay up and party you will have no problem finding suitable facilities. In addition to places such as night clubs, bars, and pubs you will also be able to enjoy evening entertainment such as comedy shows and acts.
Dining facilities
Dining facilities: There are many great dining facilities to choose from when you come to Atlantic City, with something to suit most tastes, preferences, and budgets. Whether you are looking to enjoy a fine dining experience or whether you want something cheap and cheerful for the family, you will find a great variety of places to either eat in or to grab some food on the go.
With so many things going for it, it is little wonder that Atlantic City has become a popular choice for those who want an exciting, fun, memorable, and relaxing holiday experience.