Cable cars are an historic symbol of life around the world. It's real working transportation that is practical and inexpensive to operate. In San Francisco, it became a necessity due to the steep hills. Moving from Union Square to the crest of Nob Hill, a cable car provides one of the most exciting ways to move through the city.
When you visit San Francisco, make sure you try it at least once. It's an experience you'll never forget. Today, most people think of them as a touristy attraction, but there are natives who still use it as a means of transportation.
First things first though. When you plan a photography trip to San Francisco, you'll need more than just flowers in your hair. You'll need a good deal on the plane ride, a hotel or hostel to stay in, and of course a food plan.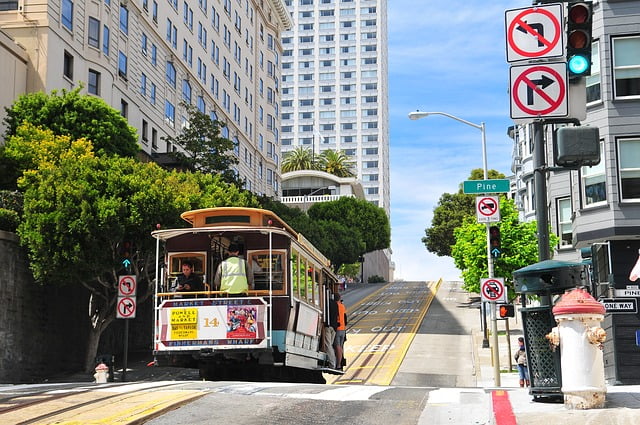 Sites, like Hipmunk, help you coordinate the big picture travel stuff, providing you with an uncomplicated way to organize and sort flights, hotels, and other accommodations. Once that is sorted out, it's time to figure out where the trollies are, and where they will take you once you're in the city.
Cost For A Ride
The cost for a ride is about $6 for one-way fares. Some cable cars cost $5, and you can usually get a passport if you're a visitor. Passports range f rom between $13 and $26 depending on whether you get a one-day pass, a three-day pass, or a seven-day pass.
Adult passes for the month can cost up to $60, with seniors (age 65 and over) paying just $15. Children up to age 17 also only pay $15. Any child under 4 rides free on the cars. Cable cars tend to run 7 days a week unless there is some unusual problem with a car.
Tips For Riding
If you want the best view while riding, face the side that faces the bay (if you happen to be going past it). Normally, this will be the eastern side of the Powell cars as they are leaving the downtown area. If you're leaving the Fisherman's Wharf area, be on the left.
When you get off the car, wait for it to pass and never cross in front of it. The drivers are paying attention but the vehicle is really heavy and it can't swerve since it's on a track. This is a major safety issue for you and something you really need to be cognizant of when you're in the city. When it's raining, or when it's late at night, it takes driers longer to slow down.
Take a light jacket with you, even in the summer. It can get surprisingly chilly while you're riding. A windbreaker should be enough to keep you warm. Always hang onto something and watch your children. They probably won't have a great sense of security or safety on these things.
Most kids look at them like rides or toys, but they're vehicles and they really move when they get up to speed. Don't hang off the car, either
Where To Go
There are three major routes for the cable cars in San Francisco. The two main lines are the Powell/Hyde and the Powell/Mason line. They both start off as the busy Powell and Market intersection and then move to the Fisherman's Wharf.
Most people who ride the cars ride these two lines. The less popular car is the California/Van Ness line, and it starts at, you guessed it, California and Market and moves to Van Ness.
The Powell/Hyde line will take you pretty close to the Ghirardelli Square so you can check out the amazing chocolates, the Powell/Mason line takes you near the Fisherman's Wharf, but there's a place called Kennedy's Irish Pub and Curry House, which has amazing Indian food.
And, the California/Van Ness line takes you through the financial district, if that sort of thing interests you.
Getting Off
Once you've finished having fun on the cable car, have alternate travel plans, like a vehicle or some other public transportation, waiting for you – unless you want to get out and walk.