Spain is a incredibly varies with many different things to see and do. Whilst it has its share of attractive stretches of beach, it also has the classic bull fighting, white-washed villages, big city environments in Madrid and Barcelona that are full of colour and nightlife, and historic buildings seemingly everywhere.
The landscape also has a little bit for everyone too. There are mountain ranges, harsh desert environments and lush green vistas. So much so that depending on the season, you can pick whatever scenery you want to see and choose a spot in Spain to enjoy it.
Spain tourist attractions are plentiful, so let's now look at some of the best ones.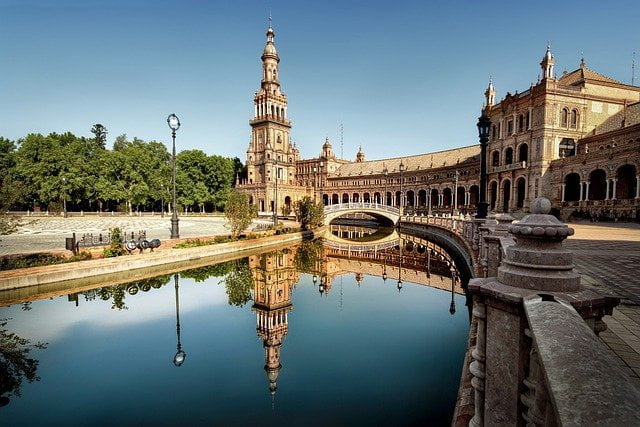 Daredevils Head to Navarra
The San Fermín Festival isn't one to be missed. The main event is the El Encierro which is where enthusiastic locals, and perhaps some foreigners too, try to run together ahead of the bulls and not get trampled! To get the crowd hustling, twelve bulls are let loose on the streets. This fiesta is an amazing experience. It's important to ensure you have booked your experience with an agency that really knows Spain tourist attractions and are able to ensure that you can participate, enjoy yourselves and are safe. You don't want to miss the fun because you didn't plan enough. Organisation is key to ensuring you aren't left out of a single thing.
To get in on the action, you need a comfortable fast pair of shoes and to be in the city between July 6th and the 14th. The event goes national every year with its TV broadcast and has been enjoyed for over three decades. Originally, bulls were moved from the outskirts of the city to the bullring. Youngsters would run ahead of them to show their manliness donning the traditional white top and trousers. A few cities in Portugal and Spain also still run the same challenge for young people.
Medieval City of Cuenca
Perfectly placed within easy travel distance from both Valencia and Madrid, this medieval city perched on the side of a mountain lets you know it means business. There are several houses that dare to hang over the edge of the cliff which provides an impressive visual and Instagram snap while on the roads nearby. Due to the medieval style buildings and where they're situated, the Castilla la Mancha province has a special place in its heart for Cuenca.
Anyone interested in the medieval period or architectural development over the centuries will surely find Cuenca a fascinating place to visit. Given its reasonably close-proximity to Madrid, it's also a good day trip to consider when already not too far away.
Prado and Paseo del Artes, Madrid
There is so much to do and see in Madrid. When it comes to artwork though, it's one of the best places to visit to see some impressive pieces that cannot be viewed anywhere else. The one-mile boulevard (El Paseo del Arte) with trees lining either side is a great place to walk along to find the museums that are everywhere in this part of the city.
The Prado is an impressive building, but the invaluable artwork inside is one of the best you can find. Elsewhere, the Reina Sofia Museum holds a Picasso and several Dalí's among its 15,000+ pieces. There's just too much for an art lover to see while staying in Madrid, so it's best to examine the collections on the art gallery's websites and decide which places to visit during your stay.
The Alhambra, Granada, Southern Spain
A plateau with rolling hills in the background is the home to the Alhambra, an imposing series of structures in Granada. The palace originated with the Nasrid sultans in the 14th century. It looks like a cross between a heavily fortified fortress, a forested area surrounding it, and a grand palace all rolled into one. The well-maintained structure and grounds pull in many tourists every year who are fascinated by the history and the age of the Alhambra where they can imagine how the wealthy lived back in centuries past.
Alcazar and La Giralda Tower
The Seville Cathedral, also known as La Giralda tower, along with Alcazar collectively comprise a protected UNESCO historic site. The Almohad era building has become a signature location for people heralding from Seville. There's considerable space inside the Cathedral which is often surprising to people who first visit. Looking up, the bright yellow lighting coming from the ceiling is what is often most remembered. Whether you're religious or not, a visit to Seville is incomplete without seeing this attraction too.
The difficulty with a visit to Spain is deciding what activities to participate in while you're there. You really have to narrow down your interests and pick the best places to visit based on that. It's probably also a good idea to have several hobbies and combine them with each city or town visited to get the most out of each location. It would be easy to spend two weeks in a single city and not get bored. There's just so much that's interesting, you're really spoilt for choice and so narrowing your focus helps to not get overwhelmed.