Australia is the largest island in the world and covers a wide range of landscapes with deserts, rainforests and rugged mountains. It is a country with an abundance of unique animals; koala bears, kangaroos and emus are some that come to mind. Another thing that makes Australia so appealing is the feeling of space and isolation you get in such a vast country.
Here are some suggestions for places and attractions that you can not miss on a trip to Australia's Northern Territory: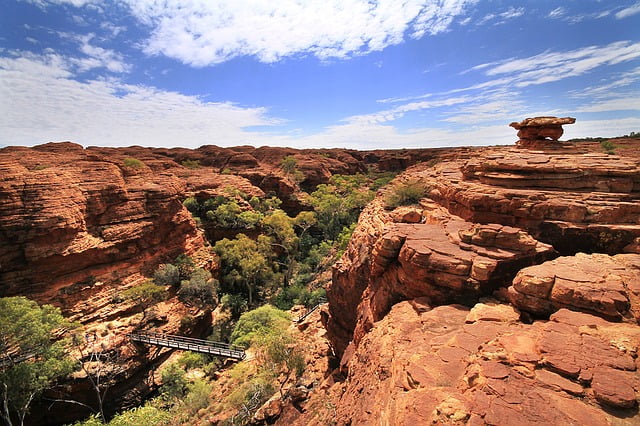 Explore Kakadu National Park
Besides the reddish desserts, there are some spectacular national parks worth visiting such as Kakadu. This park offers a great landscape dotted with eagles, giant lizards, crocodiles and emus. You will surely be amazed by the variety of wild animals and by the large size of the park. If you are interested in trekking or camping in the great outdoors, this is one destination you won't want to miss.
Ride a camel through the desert
No trip in the Northern Territory of Australia would be complete without a camel ride through the desert. Yes, Australia has camels! You will be charmed by the desert sun and by the hot red sand .However, be careful! The climate can be very hot which is why most visitors tend to come in winter.
Go catch some waves
Australia is synonymous with beaches. Even if you are not a surfer, you'll want to spend a bit of time basking under the sun on the sandy shores. Darwin city has several beautiful beaches including Mindil Madorah and Vestey.
Drink a glass of wine (or two) at the local wineries
You can not leave Australia without discover the wine of this region. The Northern Territory has a long tradition in wine production, so make time to visit a winery in the region.You can try Chateau Hornsby Winery in Alice Springs. This is one of the best known wineries in the region, and they are one of the leading producers of Australian wine. Once you've learned a thing or two about Australian wines from winery tour, you can visit the The Bottle-O for a taste of your favourites.
What would you like to visit in Australia's Northern Territory?