The Canary Islands are such a magical set of atolls. Each island offers different climates and historical sites, each with its own take on traditional Spanish and west-African meals. All while surrounded by the fresh smells of the ocean and the tranquil sound of the waves.
With all the travelling one can do in a lifetime, the Canary Islands should always be at the top of everyone's list. Not only for the sheer beauty but also because it's so damn cheap to travel there. You get the best of the Spanish passion and culture without paying mainland prices. Before I flew, I did a comparison between flights to Tenerife and flights to Spain, just to have it confirm that the Canary Islands and especially Tenerife are cheaper to travel to and daily costs are far less than travelling to mainland Spain.
To help you decide on which of the islands to visit (although…why not visit them all?!) here are a few things about Tenerife that you ought to know about.
Some Beaches are Raven
Tenerife, like most islands, was created by a volcanic disturbance. Tenerife has an unusual and completely unique stretch of beaches that has soft grey-black sand. There are beaches that have the usual golden-brown variety of sand but the miles of exotic beach is rarely seen on other islands and is a fantastic tourist attraction on the island. The waters are cool and clear, it contrasts beautifully against the warm dark sands of this exotic island.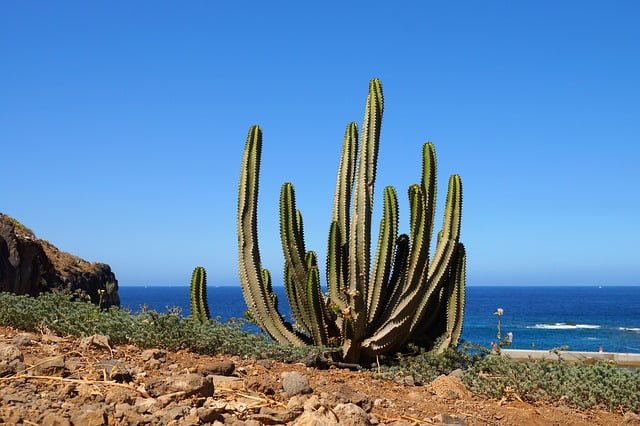 Eternal Springtime
The Canary Islands have often been given the ever poetic title of "The Islands of Permanent (or eternal) Springtime", due to the near all-year-round perfectly warm weather (generally 27°C or 80°F). A large-brimmed hat and a good sun block is recommended for any excursion or day in the sun. If you're thinking about travelling to Tenerife, the perfect time to visit is nearly anytime of the year.
Terrific Tenerife Food
There are some places I would recommend eating at the hotel, but the Canary Islands and especially on Tenerife, you should have lunch and supper at different cafés and fish huts.
The islands are renowned for their seafood because of their use of spices, flavour combinations and cooking techniques. Their pricing for food is so cheap you'll want to give them more money just for the sheer quality and quantity you get in some local eateries. A simple catch of the day turns into a superb lemon-basted mojo-dressed dinner to be shared with good friends and a chilled glass of wine or Sangria.
So Much to Do
Tenerife is full of interesting sites above the usual resort and sea activities (the island offers paddle-boarding, kite-surfing, snorkelling, scuba-diving and many more ocean-based attractions). There are museums, nature walks, excursions to Tenerife's crater and volcano.
But the best is Loro Parque (Loro Park) in Puerte de la Cruz is the island's biggest attraction with the world's largest indoor penguin exhibition, Europe's longest shark tunnel and one of two destinations in the whole of Europe to be home to Orcas. It is also home to rare plant life, exotic animals and is a centre for nature and wildlife conservation. The side-shows are entertaining and the main events are absolutely spectacular!