London markets sell everything from food to flowers, antiques, modern art, clothes, shoes, curios, and much more. The large sprawling markets are a perfect way to spend a day and to eat superb food in one of the world's food capitals.
Alfies Antique Market
This is London's largest indoor market and is a treasure trove of 600 stalls selling collectables from the Victorian period to the futuristic 1970s, antiques, vintage clothes, glassware, fine and costume jewelry, unique gifts, textiles, furniture and 20th century design pieces. There are three floors to explore, also with African, Oriental and Mid-Century Modern Arts, and including a great rooftop cafe on the third floor.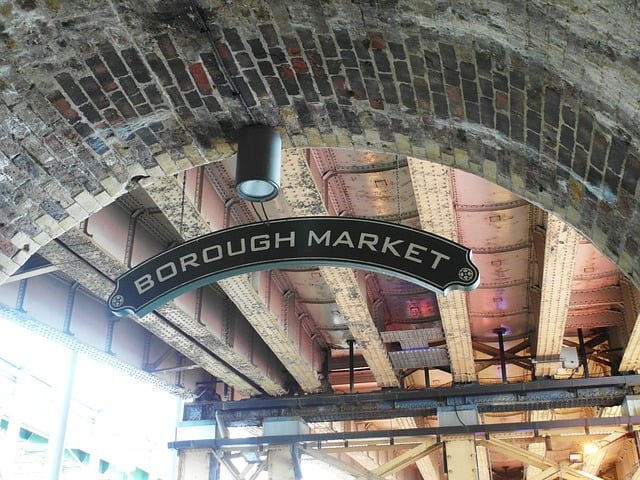 Borough Market
This is London's most renowned, largest and oldest wholesale and retail food market and features exceptional British and international produce and food along with unique handcrafted items. This gourmet's paradise has fresh fruit, vegetables, meat, fish, specialty ingredients, cheeses, olive oils, indulgent bakery treats and delicious street food. It is popular with professional and amateur chefs, restaurateurs, and people who love to eat, drink, sample delicious seasonal recipes, and watch a live cooking demonstration. A food afficionado is in heaven with Dover Sole, Black Truffle Balsamico, Crab Tortellini, Chorizo Alicante from Spain, Artisana Breads, the freshest Fish and Chips, Pulled Pork, Paella and so many other specialties.
Camden Lock Market
Situated in Camden Town near the Camden Lock of the Regent's Canal, you will find one of the biggest markets in Europe with over 100 shops, studios and stalls. There is an extensive range of goods from pieces of art to designer clothes and accessories, designer workshops, jewelry, crafts, furnishings, books, cafes, fast food stalls and restaurants. It is world famous and the fourth most popular London attraction with approximately 100,000 visitors each weekend.