You might think that a trip to Niagara Falls involves nothing but a photograph in front of a waterfall, but you'd be wrong! If you're in search of an adventure that will make your hair stand on end, Niagara Falls has an activity to suit everyone. The problem is, once you've checked in to your Niagara Falls Marriott hotel room and you're ready to hit the attractions, where should you go? Hopefully, this list should help you – grab your backpack and let's head to the top five places to get an adrenalin rush around Niagara Falls…
Learn to flyboard
Not many people have heard of this, but it's the latest thing in the world of water sports. Imagine combining all the power of jet propulsion, with the classic techniques of water skiing – well, now you can! Flyboarding is where jet-pack style contraptions are attached to your feet and legs, which use powerful water jets to thrust you up into the air. You'll be able to "float" around with ease up to 40 feet in the sky, thanks to the experts who will be there to help you every step of the way.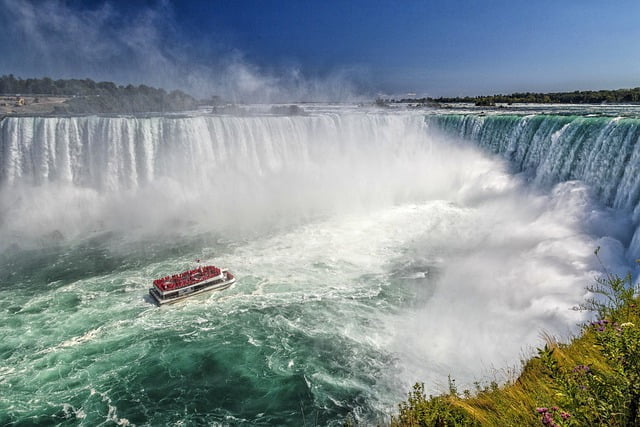 Ride a zipline above the Falls
This is Niagara's newest attraction, and it's bound to be one of the most popular for thrill-seekers. The MistRider Zipline allows the rider to travel at speeds of up to 70kmph across 2,200ft of zipline – if that's not enough to get your heart racing, you'll also be suspended 220ft above Niagara Gorge. You'll sail past iconic landmarks such as the American, Bridal Veil and Horseshoe Falls, as well as gain a memory that will last a lifetime.
Freefall in Niagara
It's not just outdoors that all the action takes place around here – thanks to the team at the Niagara Freefall and Interactive Centre (the only attraction of its kind in Canada), you can now perform an indoor sky-dive. You'll be able to experience freefall in a safe and controlled environment, as state of the art technology recreates winds of up to 120kmph.
Take a whirlpool jet boat tour
If you already went on the popular Hornblower Cruise but thought it was a little tame for your liking, then the whirlpool jet boat tours which take place throughout the day should hit the spot for you. These vehicles have been custom made with the very best marine technology to withstand the harsh conditions of Niagara River – you'll be soaked to the skin though so don't forget your raincoat.
Walk along the famous rapids
These days you can get up close and person with the rapids around Niagara River. These fearsome and dangerous waters might make activities like kayaking a no-no, but you can experience them through the boardwalk called the White Water Walk.
Have you been to Niagara Falls before? Which was your favourite adventure-ride? Let me know in the comments section below…