Amsterdam has a wealth of attractions, sights and history to explore: there is enough to keep you busy for a short break or to entertain you at your leisure if you opt to stay for a fortnight's holiday.  If you are planning to go for a longer break it is worth hiring a car to explore the surrounding countryside and some of the nearby, quaint villages that abound in Holland.
So if you can get to Amsterdam for so little money, what will you do with your extra spending money when you arrive?  Most people know about the main sights in Paris such as the Louvre, Eiffel Tower and Notre Dame Cathedral, but what do you know about Amsterdam besides cafés and canals?
One of the best ways to explore Amsterdam is to hire a bike and cycle round its many red cycle paths (be very careful not to walk on them – you do not have right of way as a pedestrian) that wind around the city streets and alongside the famous canals.  'Holland' is a contraction of the words 'hollow' and 'land' because it is so utterly flat, which makes it ideal for a casual bike ride.  Depending on when you go, you could go and see the blooming tulips and traditional windmills: there are well documented routes that the local tourist office will be able to recommend.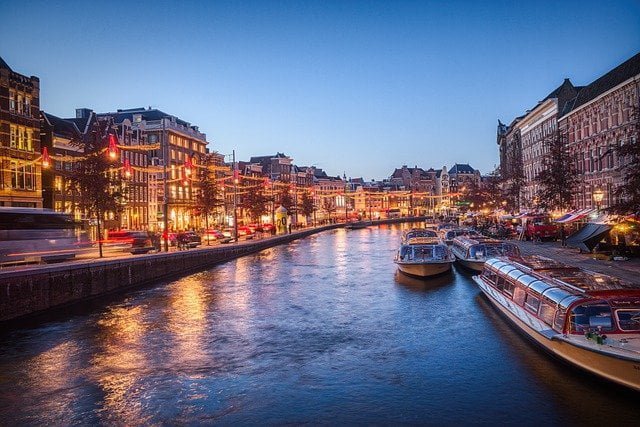 Once you have found your way around the city and identified the sights you want to see in more detail, here are some handy tips to help you to navigate the customs and daily life in Amsterdam:
–        Local cuisine is a bit of a mixed bag.  Cheeses, olives and breads abound as you would expect to find in neighbouring France, but so too do little syrupy biscuit treats like stroopwafels rather like similar products one might expect to find in a German market.  One local delicacy that you will find in most restaurants is Hollandse Nieuwe – fresh herring – and you will usually find apple pie in the dessert cabinet.
–        The weather is similar to English weather in that rain showers are common.  Unlike in England, though, they tend to pass quickly.  Pack an umbrella or, to free up your hands, a pack-a-mac stored in your bag.
–        Make sure you take plenty of cash as not many outlets accept Visa or MasterCard.