Even appetites are bigger in Texas, so make sure you plan a food stop if you're traveling to Dallas. Otherwise, you might find yourself starved half to death by the time you reach Leon County! Nobody wants that, right? So do yourself a favor and set aside an hour or two for a fantastic meal while you're en route. And if you're passing through, be sure to schedule a lay over. Here's a list of 5 restaurants you absolutely have to try during one of your next trips to Dallas.
Sam's Original Restaurant and BBQ in Fairfield
Let's get right down to point and start our list off with one of the best. Sam's Original Restaurant and BBQ is something of an East Texas landmark. In fact, judging by the huge crowds that come to Sam's at all hours of the day, you might say it's an institution in these parts. Heck, even the gift shop has a wait, so you know it has a great reputation. Or you can trust the reviewers at Trip Advisor for a recommendation. Tradition rules everywhere at Sam's, especially on the menu. They've used the same recipes since 1953, when owners Sammy and Doris Daniel started serving home style barbecue to Fairfield locals. It's these family recipes that keep barbecue lovers coming back. Sam's buffet is always a big hit with interstate travelers, with all you can eat barbecue items like beef, sausage, and ribs. Or you can order burgers, pork chops, and brisket right off the menu. Either way, you'll leave Sam's happy, full, and ready for a nap in Dallas!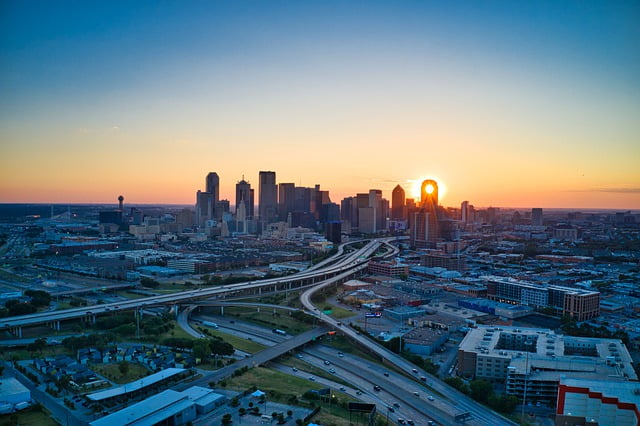 Woody's Smokehouse in Centerville
If you're in a rush and need some old fashioned Texas road food, stop off at Woody's Smokehouse in Centerville. Located right at the midpoint between Houston and Dallas in Leon County, "the jerky capital of the world" has delicious smoked food AND perfect timing. At Woody's Smokehouse, it all starts with the meat. They serve every kind of jerky you can imagine — beef, buffalo, elk, venison, and turkey. They also have endless varieties of sausage, cheese, and jarred vegetables. And don't worry about your meat being one note either, because Woody's sells all the dressing, dip, and marinades you need to keep everything varied and spicy. And of course you can top off your road rub with one of Woody's homemade desserts. Their in house bakery makes pies, cookies, and fruit cobblers. In short, Woody's has everything you need to make those last 100 miles seem a bit shorter.
The Firehouse Grill in Ennis
If you get hungry late in the trip from Houston to Dallas, you can stop at The Firehouse Grill in Ennis. There's a firefighter theme throughout, from the boots and helmets on the wall to the "Fire Starter" appetizer menu. In addition to standard (but delicious!) pub fare like jalapeño poppers and potato wedges, the Fire Starter menu also includes crab cakes, deep fried calimari, and a delectable shrimp combo option. After the "crispest" salads in the state come the Firehouse Grill entrees, which all the picky folks at Yelp agree are fantastic. Of course, their steaks are fantastic, especially the New York strip served medium rare. And with pan seared scallops, tilapia, and salmon, the seafood menu is delicious and surprising. All in all, the Firehouse Grill is great place for great eats when you're about to hit Dallas. And yeah, there's cool firemen stuff too.
The Cotton Patch Cafe in Corsicana
The Cotton Patch Cafe is a chain in Texas and New Mexico. Their menu varies a little from location to location, but the franchise in Corsicana is known for their grilled vegetable appetizers and traditional entree favorites like chicken fried steak, catfish and "one fork" pot roast. Throw in their hearty chicken and dumplings, and you have the perfect home style Texas cuisine. The Cotton Patch in Corsicana serves heart healthy options as well — salmon and tilapia, in addition to chicken with rice and vegetables. They also have a good kids menu, to keep the youngsters happy and quiet on the rest of the trip home. And if you're in a hurry to reach Dallas, try something from their Express Lunch of Family Style To Go sections.
Gilberto's in Fairfield
We have three words to say about Gilberto's — bacon wrapped jalapeños. Served with ranch dressing and avocado, they're exactly as good as they sound. This novel appetizer isn't the only reason people rave about Gilberto's, but it's a good place to start. As for the rest of the menu, Gilberto's adds some unique items to their standard Tex-Mex lineup, including a wonderful spicy poblano skirt steak and their Tortugas option. The Tortugas entree — avocado halves filled with chicken or beef then breaded and deep fried — is perhaps their most distinct selection and has a mouthwatering flavor that will have you wanting to make this long drive again soon. But if you're not in the mood for Tex-Mex, Gilberto's serves a wide range of American cuisine as well. Offering chicken, burgers, and steaks in addition to their fantastic traditional options, Gilberto's has something for every taste. So as you make your journey across the US to the most popular cities in America, you have a good bucket list of restaurants to try when you hit Dallas. And heck, even if you live in Dallas you need to get to know these restaurants.